Haunts
Lunch with The Baron at 85 Fleet Street
Bankers and lawyers now occupy the upper floors of the building that was Reuters' headquarters for six decades. But at street level the memory of Paul Julius Reuter is evoked in pictures and there is even a Reuters room in the basement at Lutyens Restaurant, Bar and Cellar Rooms. It's all a far cry from the St Paul's Grill, Reuters' staff canteen on the 8th floor in the 1970s and later. If any ghosts from its long gone Reuters days still haunt 85 Fleet Street they are keeping quiet.
---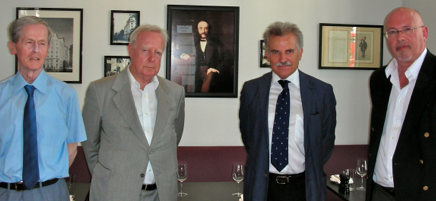 When Sir Terence Conran, master restaurateur (Bibendum, Le Pont de la Tour, etc), creates a new restaurant "that might tempt a few journalists back to Fleet Street" and that restaurant is located at 85, The Baron has a duty to inquire.
And when one of the restaurant's four private dining rooms is named Reuters, the inquiry becomes compelling.
Lutyens Restaurant, Bar and Cellar Rooms, is in the building that was Reuters' headquarters from 1939 to 2005. The birth of Samuel Pepys, 17th century diarist, politician and naval administrator, in a house on the same site is commemorated by a memorial plaque.
Reuters sold the building for £32 million in 2005 and moved east to Canary Wharf. Refurbished and re-opened in June 2008, the upper floors are now occupied by lawyers and bankers, though the main entrance on Fleet Street is kept firmly shut. The restaurant opened a year later in June 2009. Four Reuters people past and present who all worked at 85 tried it out (photo L-R)​: John Ransom, former area liaison manager, Michael Nelson, former general manager, Barry May, former deputy managing editor now editor of The Baron, and John Entwisle, Thomson Reuters group archivist.
Entering from the north-east corner of 85, visitors first see the oil portrait of Paul Julius Reuter and the 1872 Vanity Fair caricature (reproduced elsewhere on this website) as well as images of the building in its early days.
One of the restaurant's four private dining rooms is named Reuters
Lutyens' chef is David Burke, an Irish alumnus of Conran's original Bibendum kitchen in South Kensington and the first chef of Le Pont de la Tour on the other side of the Thames. His menus include renowned French recipes and a few Irish classics: charcuterie, Dover sole, veal cordon bleu, game when it is in season, truffles when they are available. Sushi is also served.
Which is all a far cry from the St Paul's Grill, Reuters' staff canteen on the 8th floor of 85 in the 1970s and later, though not, perhaps, so far from the finer cuisine of the adjacent executive dining room where Gerald Long, chief executive in the 1960s and 1970s, held court. His gourmet tastes were legendary - Christmas cards from the MD reproduced a different preferred recipe each year.
Lutyens' service and management is led by Graham Williams, for many years manager at Bibendum and more recently at Le Café Anglais in Bayswater.
"I have always admired David Burke's enthusiasm and the way he combines his Irish style with classic French cooking," Conran said. "Together with Graham's efficient and charming service, I think we have created a restaurant that might tempt a few journalists back to Fleet Street and get the bankers out of their bunkers and spending again. Maybe it's also a restaurant and bar that Pepys would have greatly enjoyed."
That depends on who is signing the expenses*. A Bloody Mary will set you back £8, a dozen oysters £16-£23.50, a wild smoked salmon starter £15, Dover sole £24, entrecôte £18, crème brûlée £5, cheese £9.50. Probably not a problem for the bankers even in these straitened times but journalists would be hard pressed to get prices like those past the editor, however good the story.
The wine list runs to several hundred bins and ranges from French terroir style wines to renowned estates and vintages. Primarily old world focused, the list includes more than 100 wines under £35, plus an extensive selection by the glass and pot Lyonnais. A growing collection of large format bottles and rare old Claret and Burgundy wines has also been stocked.
The restaurant is named after the Portland stone building's designer, Sir Edwin Lutyens, probably the most distinguished British architect of the first part of the 20th century. Architectural drawings for various Lutyens buildings appear on glass panels.
The double aspect main dining room - 130 seats - is light and airy, reaching from St Bride's Avenue leading to Sir Christopher Wren's wedding cake church to, on the other side, what was once the Cogers pub, scene of one or two alcohol-fuelled punch-ups in the old days, on Salisbury Court. But that's a story to be told elsewhere. If any ghosts from its long gone Reuters days still haunt 85 they are keeping quiet.
*The editor of The Baron does not have an expense account. The Reuters diners were the guests of Lutyens Restaurant.
---
THE TROLLEY, FIRST TV CHEF AND OTHER FOOD MEMORIES OF 85 FLEET STREET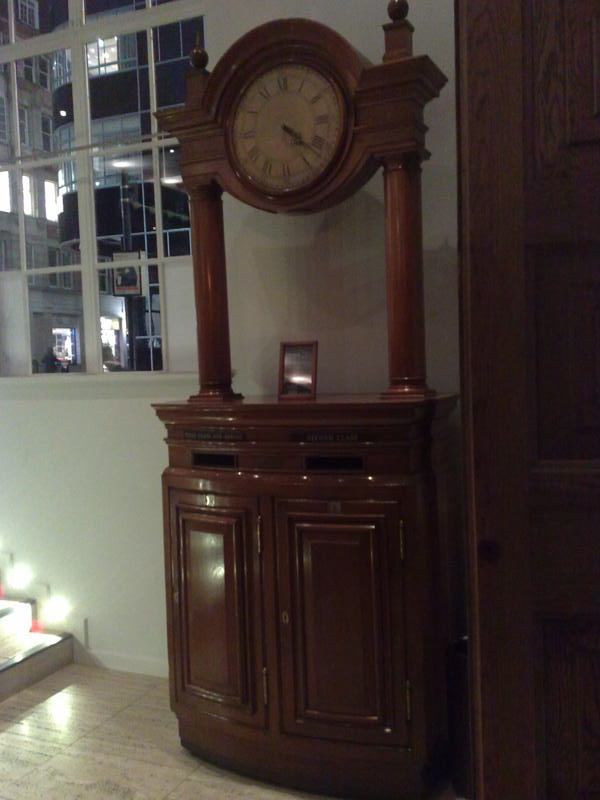 Peter Mosley (Reuters 1957-1992) writes: My wife (Ann) took me to lunch at Lutyens on my birthday in December 2009, upholding my old Fleet Street freebie dining standards.
I was delighted to find that the elegant teak clock-postbox (photo) designed by Sir Edwin Lutyens, which used to dominate the now defunct marble lobby of 85 and which had gone into storage, now graces the bar of Lutyens. The manageress says customers regularly post letters in it; a member of staff is tasked with emptying it at closing time and reposting the mail in a proper postbox.
We found the food excellent but soooo pricey. Like the ex-Reuters luminaries before me (see above) I was glad not to be paying. Lutyens is into that old scam of charging extra for vegetables, creating an illusion that mains are reasonably priced. But as 99 per cent of the clientele look like expense-account diners it probably doesn't register.
I worked out that I must have been sitting close to the site of the Cogers, and remembered the unConranlike generosity of its landlord, a charming Irishman called Denis O'Brien. He regularly provided a slap-up free Christmas dinner - turkey, plum pudding, mince pies - to any Reuters hacks who had to work on Christmas Day.
Another early food memory of 85 was the hiring of Philip Harben, Britain's first TV chef, to bring a touch of class to the grotty top-floor canteen we shared with the Press Association. An excellent nostalgia piece in UK Press Gazette four years ago [Media machinations in Fleet Street's heyday] all about Fleet Street watering holes, reminded me that Harben's answer was to establish an "85 Club" alongside the canteen. "Word that flambéd steaks, poached gravadlax and delicate desserts were to be had amidst white napery, at subsidised prices, passed round Fleet Street like a newsflash," the Gazette reported. "Familiar faces from the broadsheets and tabloids were spotted masquerading as agency employees until the queues became intolerable."
The canteen had its mobile division, of course. When not based abroad I spent my working life at Reuters on the fourth floor of 85, and at least three times every weekday The Trolley would appear bearing tea, coffee, sandwiches and buns from the canteen. It would stop once inside the front entrance and once before leaving through the back doors. Deskers would abandon even the hottest breaking news stories to join the queue. There was a time when Trolleys sneaked through the newsroom before most folk realised they'd arrived. This was resolved when Trolley staff were ordered to announce their presence loudly and clearly. After that, a shrill falsetto "TROLLEEE COMINGGG!" would ring out whenever it arrived, and "TROLLEEE GO-EEEING" as it was about to leave.
Overnight shifters had no trolley, so they brought their own sandwiches and milk for the tea. At one time it was the practise to put out leftovers on the window sills for the pigeons. Sometimes, alas, tea slops were emptied out of the windows. This caused a mess below, which led to a complaint from the churchwardens of our neighbouring church, St Bride's, and to a stiff notice from Reuters staff manager David Smee, memorably headed THROWING OF TEA OR BREAD. Colin Frost, a wag from our rivals Associated Press around the corner, heard of this and began phoning in to our copytakers, dictating what they thought were authentic news stories about the situation. The first one simply reported that the Rector of famed St Bride's church had accused staff of Reuters news agency of pelting his parishioners with tea or bread. This news release was duly taken down and passed to the UK reporting desk. A few days later Oxfam joined in the protest. Then came a blast from the top of the church: The Archbishop of Canterbury today denounced the growing practise of throwing tea or bread... The copytakers finally rumbled the hoax when someone calling himself a spokesman for God came on the line.
---
AWARDS
Lutyens was voted best new London restaurant in the BMW Square Meal Awards for Autumn 2009.
---
REVIEWS
AA Gill, writing in The Sunday Times, gave Lutyens three stars out of five and said "The menu is good, if a little conservative, but it's probably right for the clientele...
"This is a classic Conran restaurant. The other diners were all City businessmen, enjoying a classic Conran experience. They're the sort of men who like their sentences and explanations, indeed their lives, barded with the word 'classic'. This is a very good restaurant, though I'm still, as ever, left with the nagging conundrum of why a man who so plainly thinks the world is a misshapen fool devoted so much of his life to making beautiful places to feed it in."
Jay Rayner, in The Observer, wrote: "I admit that part of my love for the place is the location, not merely the celebration of Lutyens's clean, sturdy lines, but the proximity to Wren's St Bride's, the journalists' church; it is only in there, when we are memorialising our departed colleagues, that the greasy business of journalism takes on anything approaching a patina of nobility. And so eating here feels like a substantial, rewarding business rather than a transitory way in which to drop a ton of money."
Fay Maschler, in the Evening Standard: "The execution of the food we ordered was competent but prosaic. It lacked élan, joie de vivre and other similarly useful French words and phrases."
The London Paper's Feargus O'Sullivan found "It's breezy and charming - but it's a pity the food isn't either more generous or, well, cheaper."
Bloomberg's chief food critic Richard Vines gave it three stars out of four and wrote: "Terence Conran's new Fleet Street restaurant has a lot going for it: Goldman Sachs's offices are across the road. Freshfields Bruckhaus Deringer is a few doors along. KPMG is nearby. It's hospitality heaven.
"When economic recovery takes hold, Lutyens will be ready."
Joe Joseph, former Reuters journalist, in The Times magazine: "Lutyens allows you to reproduce authentically the experience of dining in a neighbourhood Parisian brasserie - albeit only if the pound ever sinks so low against the euro that a similar meal on a Paris street corner sets you back the equivalent of £140 for two. That price may reflect the fact that whereas it once fed Reuters journalists, 85 Fleet Street has become the canteen of the bankers from Goldman Sachs, now berthed in The Daily Telegraph's former offices across the road. The cellar bar - soon to be a private club - and the private dining rooms are, presumably, also targeted at this City clientele. So not so much 'an everyday' neighbourhood brasserie, then. Given the prices, it's more what we journalists might call 'an exclusive'."
Lutyens Restaurant, Bar and Cellar Rooms
85: First Reuters went, now Lutyens restaurant
---
Barry May is editor of The Baron. He was previously a correspondent, editor and manager of Reuters.​ ■