News
Thomson Reuters spot forex volumes fall 10% to $111 billion
Monday 7 March 2016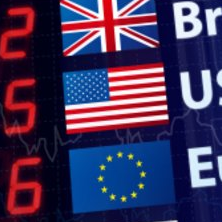 Daily spot trading volumes on currency trading platforms run by Thomson Reuters fell in February, a month marked by high volatility across financial markets.
According to figures published by the company on Monday the decline in the first two months of the year compared to the same period a year ago was even greater, strengthening the view that tighter bank regulation, fragile emerging markets and lighter global trade flows are hitting the world's largest financial market hard.
Spot currency trading volume on Thomson Reuters platforms totalled $111 billion last month, down 10 per cent from $123 billion in January, and down 2.6 per cent from the $114 billion recorded in February last year.
That brought the total so far this year to $234 billion, down from $249 billion the same period last year and $261 billion in 2014. That's down some 17 per cent from the $283 billion recorded in January and February of 2013.
Total foreign exchange trading volume across Thomson Reuters platforms fell 5.5 per cent on the month to $356 billion in February from $377 billion. ■
SOURCE