News
Thomson Reuters takes a swing at Bloomberg with chat service tie-up
Tuesday 13 June 2017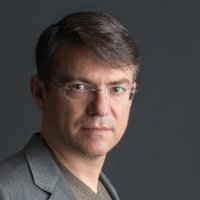 Thomson Reuters opened up a new front in its battle with Bloomberg's dominant chat network for the financial services industry with a strategic partnership.
It has joined forces with Symphony, a cloud-based messaging system founded by former Reuters executive David Gurlé (photo), to foster open collaboration and information sharing across the industry. Symphony is backed by big Wall Street banks that have been under pressure to slash costs.
A joint announcement said the partnership will provide an integrated experience between the companies' two platforms to enrich and streamline customer workflows. It will enable market participants to seamlessly share objects such as charts, news and data on Thomson Reuters' Eikon terminal via Symphony's messaging and collaboration platform.
The integration, scheduled to be available later this year, will drive productivity across the financial services community through an integrated workflow solution, the two companies said.
Users who have both Thomson Reuters Eikon and Symphony will be able to share Eikon content directly through the Symphony messaging and collaboration platform. If the recipient also has Eikon then they are able to share live data, news and charts to support dynamic, real-time collaboration.
"Thomson Reuters partnership with Symphony is another important step towards breaking down barriers to efficiency in financial markets," said Debra Walton, global managing director of customer propositions at Thomson Reuters.
"Symphony joins a growing community of partners who, together with Thomson Reuters, are bringing innovation to the financial community via our open Eikon platform. While Eikon users can already share Eikon content with counterparts via our strategic open Eikon Messenger platform, this partnership gives our customers the choice to extend these collaboration capabilities to the Symphony community. This is about streamlining desktop workflow for our customers by providing access to a powerful and integrated financial technology ecosystem."
Gurlé, a French communications entrepreneur who is now chief executive of Symphony, said: "We are thrilled to partner with Thomson Reuters as a highly respected market leader within the financial industry. This partnership will provide the Symphony Community a comprehensive and integrated collaboration and workflow solution. Customers will be able to execute entire workflows within Symphony through the seamless integration of powerful communication and collaboration capabilities with information-rich content and business critical applications."
Gurlé joined Reuters from Microsoft in 2003. He had been recruited by Reuters CEO Tom Glocer to build Reuters Messaging. Glocer, who left Thomson Reuters at the end of 2011, later became an investor in Symphony. He is now a member of its advisory board.
Thomson Reuters' own instant messaging service, Eikon Messenger, is available as part of Eikon and as a standalone, free-of-charge application on desktop and all major mobile devices. It provides users with access to the world's largest open directory of contacts, spanning more than 300,000 individuals in 30,000 firms across 180 countries.
Symphony's community is growing rapidly. It now contains 200,000 licenced users across 170 companies, including 40 of the world's top asset managers and 25 of the largest global banks.
Source