News
Thomson Reuters Q2 profit tops estimates
Tuesday 1 August 2017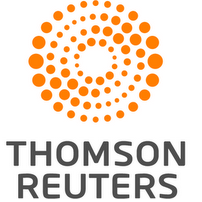 Thomson Reuters reported higher-than-expected earnings, helped by demand for market data, and increased its full-year forecast for margins and adjusted earnings per share.
Results in the second quarter improved across its largest businesses at a time when many financial services companies have been cutting headcount.
Despite this, the need for market data continues to grow, said James Smith, president and CEO.
"The overall demand for market data last year increased and has never been higher," he said. "It's just that it's feeding machines as opposed to educating people behind terminals."
Net earnings were $206 million, or 27 cents per share, compared with $350 million or 45 cents per share a year ago. Adjusted for special items, earnings were 60 cents per share. Analysts, on average, were expecting 52 cents per share.
Total second-quarter revenue was $2.78 billion, up two per cent from a year earlier, but was flat when currency was factored in. That matched analyst expectations.
Reuters News was the only division that failed to increase revenue. It was $74 million, down five per cent year on year.
Smith said the revenue decline was due to a one-time benefit that hit last year.
Sales in the company's financial & risk division, which accounted for more than half of company revenue, outpaced cancellations, a key indicator of future growth, driven by sales in Europe, Middle East, Africa and Asia. F&R revenue, excluding currency, was up two per cent to $1.5 billion.
The company raised its 2017 forecast for earnings to between $2.40 and $2.45 per share, up from $2.35. It also reaffirmed its outlook of low single-digit revenue growth. ■
SOURCE