People
Press bash without Trump takes a sober turn
Sunday 30 April 2017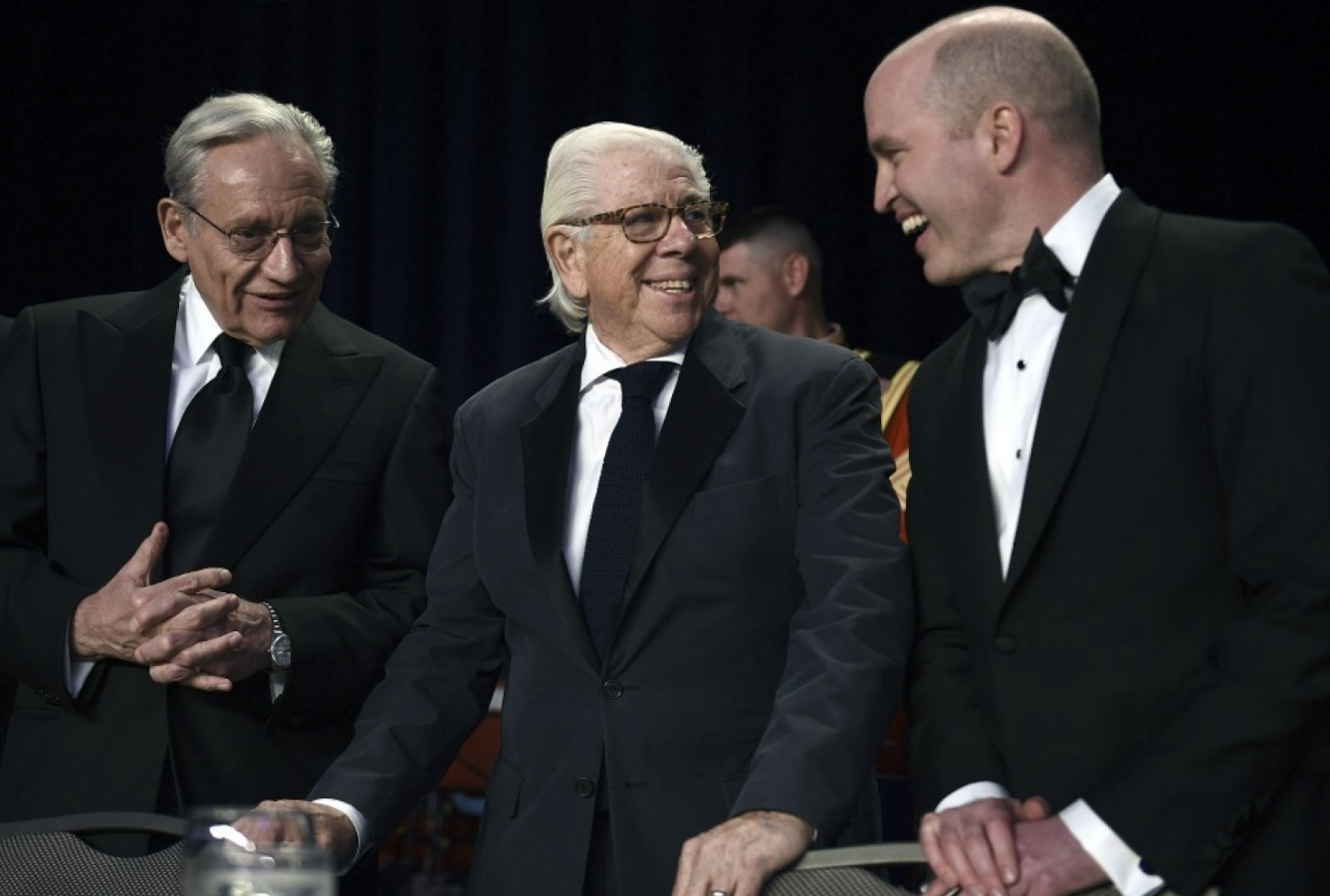 PHOTO: Bob Woodward, left, Carl Bernstein, centre, and White House Correspondents' Association president Jeff Mason at the WHCA annual dinner
---
Toned down and Trump-less, this year's White House press corps dinner was different.
President Donald Trump and most of his staff snubbed the black-tie affair on Saturday night, and few of the American A-list glitterati graced the red carpet at a Washington hotel.
Trump said in an interview with Reuters last week he decided against attending because he felt he had been treated unfairly by the media.
Instead, he went to Pennsylvania where he told supporters the media dinner would be boring. "I could not possibly be more thrilled than to be more than 100 miles away," he said. He repeatedly attacked "incompetent, dishonest" media, saying they were not telling the truth about his administration's accomplishments.
Trump said he was thrilled to be away from the "Washington swamp".
"A large group of Hollywood actors and Washington media are consoling each other in a hotel ballroom in our nation's capital right now," Trump said. "If the media's job is to be honest and to tell the truth, the media deserves a very, very big fat failing grade."
Without the president, the usually celebrity-filled soirée hosted by the White House Correspondents' Association took a more sober turn.
Reuters White House correspondent Jeff Mason, WHCA president, acknowledged the dinner had a different feel. He defended press freedom, saying attempts to undermine the media was dangerous for democracy.
"We are not fake news, we are not failing news organisations and we are not the enemy of the American people," Mason told guests. That got him a standing ovation.
Trump's absence was a constant yet mostly implicit thread through the evening's first speeches. There was a reading of the text of the First Amendment and a lot of talk of threats to a free press.
Instead of the usual jesting at the expense of guests the event returned to its roots of recognising reporters' work and handing out student scholarships.
Awards were presented by Bob Woodward and Carl Bernstein whose reporting uncovered President Nixon's part in the Watergate scandal, leading to his subsequent impeachment and resignation in 1974.
Bernstein said: "Almost inevitably, unreasonable government secrecy is the enemy and usually the giveaway about what the real story might be. And when lying is combined with secrecy, there is usually a pretty good roadmap in front of us. Yes, follow the money, but follow also the lies."
Woodward said: "Mr President, the media is not fake news." He reflected on the tenacity and patience that informed his and Bernstein's reporting, noting that journalists today do not have the necessary luxury of time in the current 24-hour news cycle.
"Now in 2017, the impatience and speed of the internet and our own rush can disable and undermine the most important tool of journalism - that method, that luxury of time to inquire, to pursue, to find the real agents of genuine news - witnesses, participants, documents," he said.
Hasan Minhaj, who plays a correspondent on "The Daily Show" TV programme, said he was explicitly told by organisers not to go after the administration. Mason interjected: "You were not told that," and shook his head.
"I would say it's an honour to be here, but that would be an alternative fact. No one wanted to do this, so of course it lands in the hands of an immigrant. No one wanted this gig," Minhaj said. "Only in America can a first-generation, Indian-American Muslim kid get on this stage and make fun of the president."
Thomson Reuters hosted a reception and CEO James Smith tweeted: "Tonight we celebrate the vital role of an independent press and support new entrants into the world of journalism." ■