People
Roy Gutman's tale of the Bosporus
Monday 24 July 2017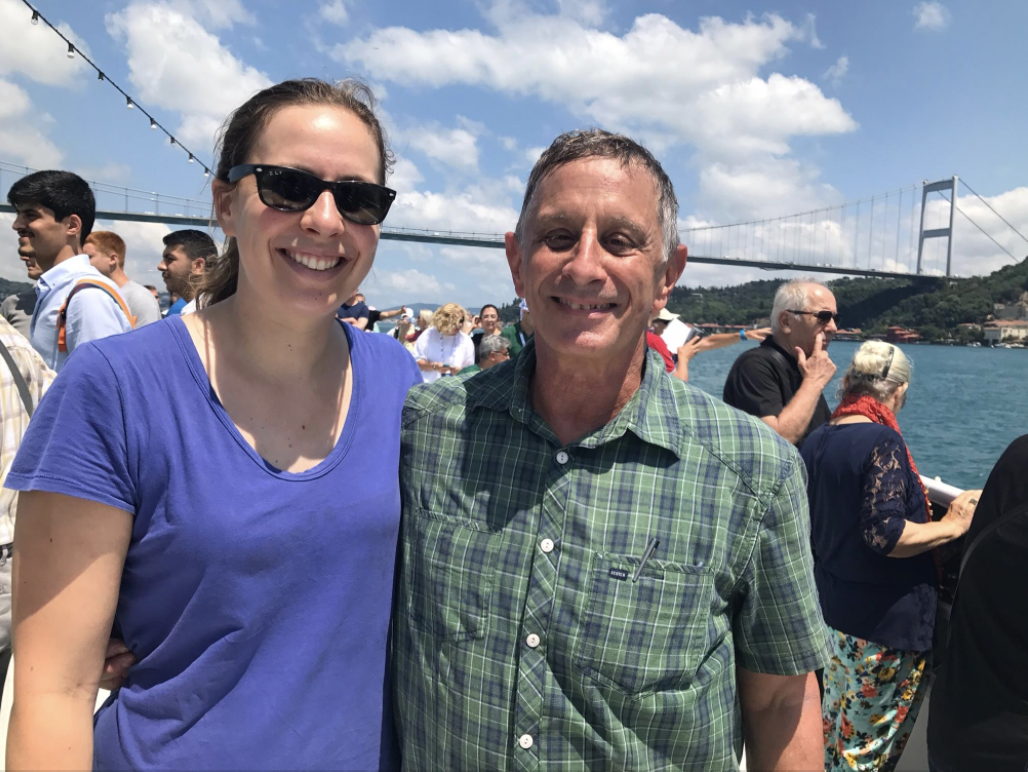 Roy Gutman has just swum from Asia to Europe in Turkey's annual Bosporus race at the age of 73 - and won the gold medal for his age group.
The former Reuters correspondent and Pulitzer Prize-winner completed the swim on Sunday with his daughter Caroline (photo) in under an hour and a quarter - 1:13:41.
"I'd been contemplating this since arriving in Istanbul five years ago. But it's not easy to work in regular practice with a staff job. As a freelance, it's possible," he said. "I happened upon a terrific Turkish swim coach at a local college pool and started training in January.
"About the race: the scenery is spectacular if and when you look up, even if it's only briefly. The route is between two of Istanbul's three Bosporus bridges. So there's no excuse for disorientation. The course is 6.5 kilometres (3.9 miles) but there's a surface current between the Black Sea and the Sea of Marmara, and if you catch it, it's more like 4 km (2.4 miles). You swim in the middle of the channel, avoiding islands, shore, etc. and the reverse current they generate, aiming for the midpoint of the bridges. When you catch the current at its fastest, you know because it's colder than the rest of the strait. And it sure moves.
"Hazards: During the race, all tanker and commercial traffic is suspended. But there's 2,200 swimmers. It's a big strait, and after the initial running jump from a barge moored on the Asian side, you look at times around and wonder: if I'm going in the right direction, where is everyone else? Then out of nowhere a school of swimmers comes along and you find yourself bumping into others. A major hazard is at the endpoint - where Galatasaray Island generates a debilitating reverse current, and then there's the risk of catching the Black Sea current and letting go too late, the having to swim upstream. I was lucky, following a group of swimmers who went just far enough, then took a 90 degree turn to the shore; Caroline went beyond the optimum and had to swim upstream."
Gutman was a Reuters correspondent in Bonn, Vienna, Belgrade, London and Washington from 1971 to 1980. He won the 1993 international reporting Pulitzer​​ for his work in Bosnia. ■