People
Thomson Reuters Foundation colleagues remember Nazanin Zaghari-Ratcliffe - 'a bright flower who we miss'
Monday 3 April 2017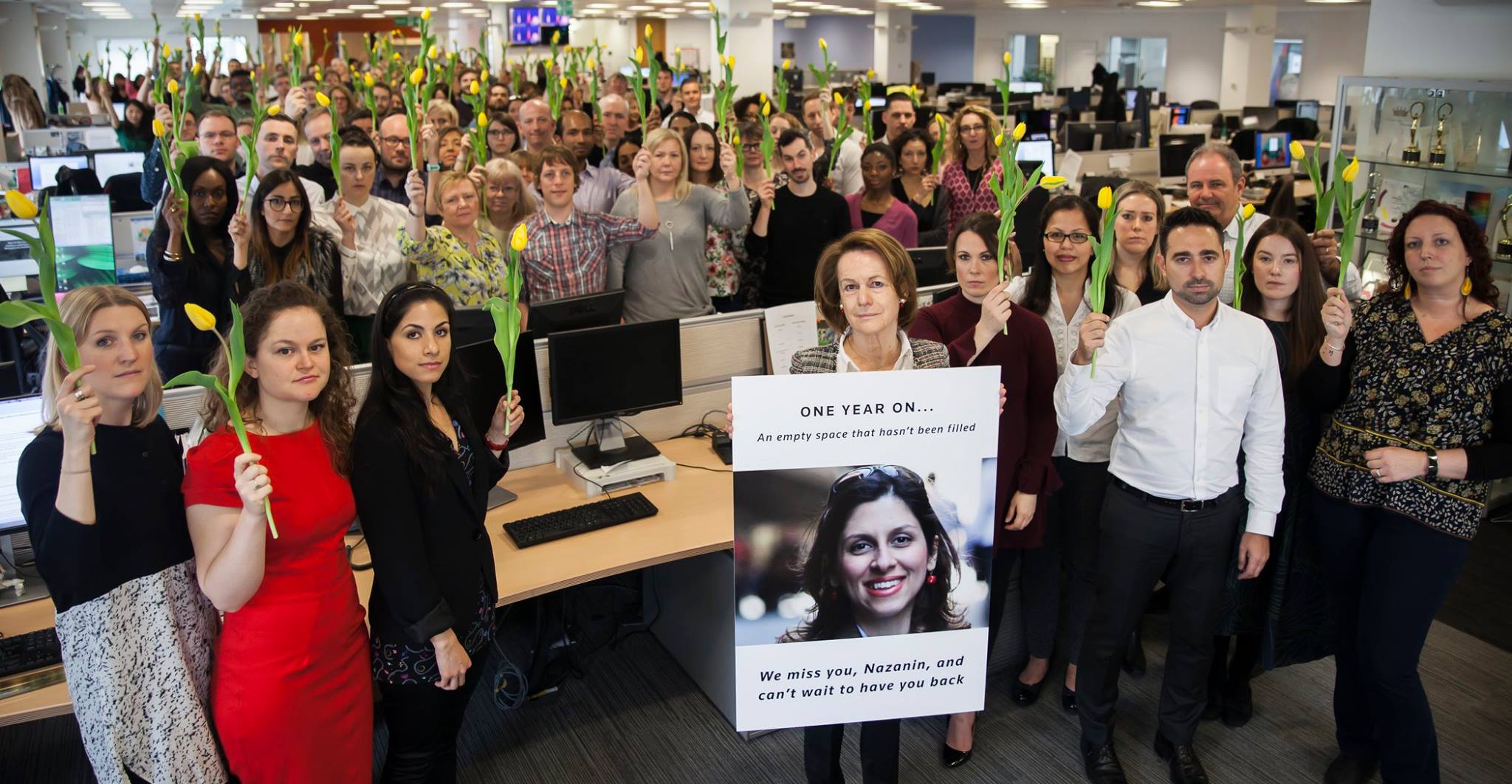 Colleagues of jailed Thomson Reuters Foundation worker Nazanin Zaghari-Ratcliffe paid tribute to her one year on from her arrest and imprisonment in Iran.
In a show of solidarity and hope, they gathered around her empty desk in the London offices in which she worked.
"We are thinking about her always and mark her absence with yellow tulips - a bright flower who we miss," they said in a message on Facebook.
Monique Villa, Foundation CEO, said in a written statement: "We all remember Nazanin as a warm, genuine and loving colleague, who delighted in motherhood and her close-knit family.
"She is a consummate professional at work, committed and driven; but also approachable and supportive. We have fond memories of her proudly showing off her latest sewing creations, often clothes for her baby daughter Gabriella, or a bag she'd make for a colleague.
"She has a strong sense of what is fair, and what isn't, and fought for justice in the workplace with determination and courage.
"It has been one year since Nazanin was arrested, separated from her daughter and subsequently sentenced to five years in jail on unknown charges. This unbearable situation has lasted way too long, and has caused Nazanin and her family unimaginable pain. Nazanin's physical and mental health is deteriorating rapidly and she is being denied urgent medical attention. She desperately needs hospital treatment for a slipped disc in her neck, is in severe pain and her hair is falling out. I am extremely worried about her physical and mental well-being."
She added: "Today, we stand united in remembering Nazanin. I am totally convinced of her innocence. We continue to urge for her immediate release and hope for her swift return."
Zaghari-Ratcliffe, a dual British-Iranian citizen born in Iran, works within the Foundation's media development programme. She was arrested at Tehran's Imam Khomeini Airport on 3 April 2016 and separated from her then two-year-old daughter, Gabriella, while returning from a holiday with her parents.
Thomson Reuters Foundation worker marks one year in detention in Iran ■