Archives
Reuters technical development chronology 1990
Monday 3 August 2015
1990
Editorial systems by this point are starting to diverge. The main centres have Tandem-based SII System/55 applications but Paris and Geneva favour a VAX-based system from Typlan. Asia has developed a PC-based system, Reuterwriter, for smaller locations. This will all prove difficult to manage later.

Although beyond the scope of this chronology, sales administration systems are now showing considerable diversity in systems and processes. Parochial attitudes halt progress.

News Graphics service is launched.

Historical information continues to struggle. The diversity of data and difficulty of finding a good way to access the data are stumbling blocks. This results in a decision to establish a new general purpose TCP/IP access network to sit alongside IDN and RMDS. It is known as HPSN (High Performance Shared Network) and Hughes is selected to implement a pilot network.

After just over two years, a major re-organisation mostly dismantles product groups except for transactions and centralises the development of information products, news, historical information and trading room systems with the goal of eliminating duplication, establishing common platforms and accelerating integration of the product line. Quotes development passes to operations after nearly 20 years on the development side of the fence. For trading room systems, it is decided to concentrate main development in Chicago and reduce London to a regional application centre. Other such centres are New York, Chicago, Geneva, Tokyo and Sydney. The Marlow client site country house lease is terminated and staff leave or are redeployed to Chicago or the new regional application centre. The plan is to transport staff to a hotel for the surprise announcement but the buses turn up on the wrong day.

Another review of Dealing 2000-2 and GLOBEX identifies resource conflicts between the projects particularly as they are planning to launch almost simultaneously and concludes, once again, that dates are unlikely to hold firm. The launch of Dealing 2000-2 is postponed to at least the last quarter of 1990. This also allows for planned enhancements to be included pre-launch and incorporate the ping-pong solution to the disrupted trade problem. This alerts counter-parties to faults which disrupt trades, for example communications problems, and allows them to sort out the problem without the involvement of Reuters.

A project is started to implement a global IDN-based messaging system with e-mail, alerts and a billboard. It is eventually known as ReuterMail. What was really required was a simple instant messaging system to rival that provided by Bloomberg. An example of over-specification missing the point.

Effix is acquired which provides the most advanced Triarch workstation yet and the offering becomes the core of the new range of workstations.

A networked version of the Reuters Terminal (RT) is developed which allows multiple RTs to share an IDN connection through a LAN segment. It is no more expensive in terms of cost of connection than the existing standard IDN terminal and offers a platform for the future without breaking the bank.

An example of that future is the development of an "open" Reuters Terminal which feeds live data into Excel spreadsheets for calculations and modelling.

Finally a new version of SSL for Triarch is announced. The previous versions were unreliable. This provides a rock solid and flexible way for work stations and data sources to connect over the Triarch LAN. It creates the foundation for a massively successful business.

The days of the simple terminal controller are over. Whilst they will linger on here and there, they are mostly replaced by LAN-based solutions, datafeed interfaces and other open systems solutions.

The Dealing development team finalise the re-engineering of the major technical components. Ethernets are used to connect components together within the data centres, eliminating the tangle of circuits and LAN bridges are introduced where feasible to replace inter data centre connections thus increasing speed and reliability. Two bridges are used to provide diversity which requires special software from the manufacturer and once again is a technical first. Finally the 4000 TC design limit inherent in the design of the original service machines is removed by the introduction of a completely new VAX based design. In this approach the functionality is divided between a Service Machine Database (SDB), containing all the subscriber information of record as well as other essential administration data, and a number of Front Ends which hold the precise operational configurations and deal with all routine requests. The database is not required for normal running of the service and only kicks in for changes such as adding a subscriber. The SDB runs the standard VMX operating system but the newly-designed Front Ends run the latest trendy operating system from DEC known as VAX/Eln or Elan. This is a very compact and efficient operating system but unfortunately turns out to be a technical dead end and causes some migration issues down the track.

IDN wobbles. The influx of new IDN products, particularly Money2000, has caused data rates to climb and are projected to soon exceed the capacity limits of the existing network. The satellite system can only run reliably at 64kbs. Terrestrial lines for LAN bridging can only run reliably at 64kbs. The proposed caching devices are not able to process the full data stream even at 64kbs. Regional data centres cannot be closed down because they are still supporting Monitor clients and because the LAN bridging solution will not work above 64kbs. A new satellite SDS-3, promising 2Mb of data, will be available next year and the 64kbs limitation for PTT lines will surely be resolved but there is a race against time. Many solutions are discussed including a two-tier product line with not all updates sent everywhere to all clients. This problem will return time and time again as traffic rates increase. A final acrimonious discussion results in the original caching device being cancelled and replaced by the Asian version which handles news headlines more efficiently in case of a terminal controller failure. Fair enough, although once again a lot of effort has been wasted on duplicate development paths.

​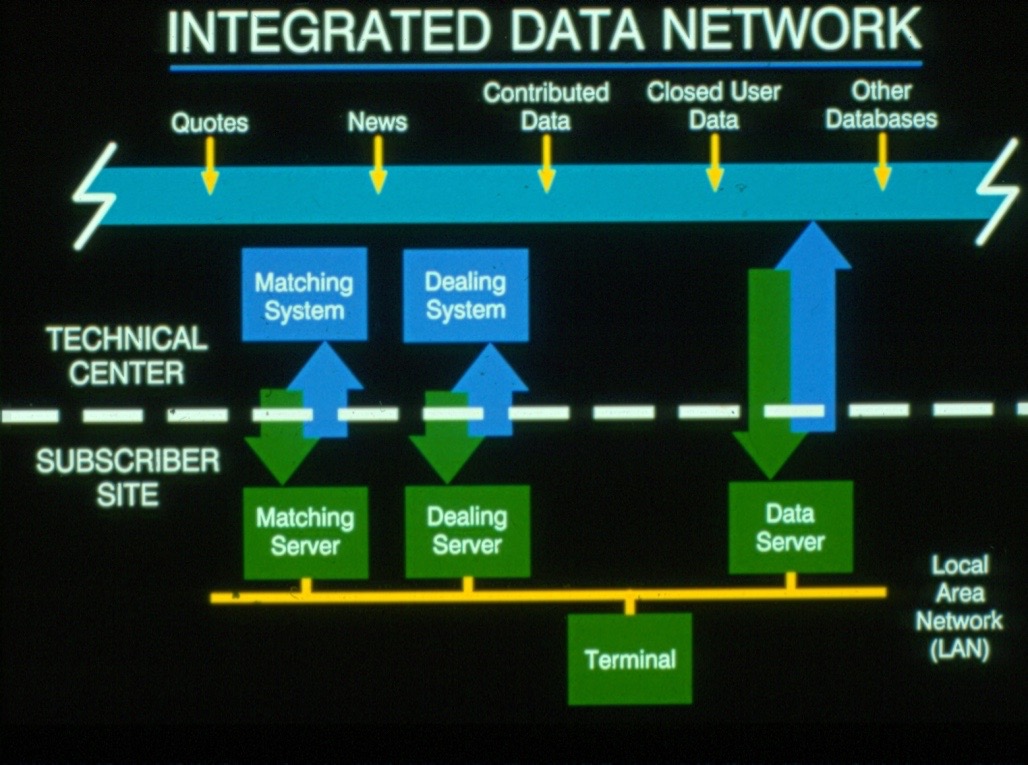 As 1990 concludes, the founders of QRS, Monitor, RMDS, Rowgrabber and IDN are departing. Monitor soldiers on and is still the main highway for news and contributed data for many clients. Thanks to the "square drum", SGS has been able to continue thus avoiding an expensive forced swap for lower-tier clients. IDN has not yet provided a proper contributed data replacement. It is coping well with increasing traffic rates although the whole issue of growth in traffic being linked to cost has yet to be broken and bandwidth limitations may constrain products. It is increasingly hard to keep products in step over the range of terminals and the delivery mechanisms of broadcast and terrestrial. In effect a private network has been built for each service provided making economies of scale difficult to achieve. Broadcast products are thriving for clients who do not require access to the complete database. RMDS has mostly been re-engineered with a glossy new terminal and a revamped network. Triarch and datafeeds are a promising new source of revenue but open systems challenges loom. Historical databases have not been a happy experience and something must be done. An updated news offering continues to be elusive. It still suffers performance problems and is difficult to implement across the new delivery mechanisms. It seems to consume everything thrown at it. The new hopes of D2000-2 and GLOBEX remain in development and launch dates come and go. Acquisitions dilute management attention. Finally the competition is becoming more evident than at any time since 1964 and the commercial Internet has not yet appeared.
​PHOTO: Early IDN vision, 1990
Nevertheless Reuters was now indisputably the world's leading supplier of computerised information and owed much to its technical developers who had provided the foundations on which the success had been built.
---
ACKNOWLEDGEMENTS
Reuters World, John Adams, Trevor Bartlett, Geoff Chapman, Mike Cornish, David Cutler, John Entwisle, Maurice Fletcher, Peter Howse, Scott Jeffries, Lewis Knopf, Irving Levine, Dredge Liversedge, Mac Mackenzie, David Russell, Herbie Skeete, George Wallace, Glenn Wasserman, Nick White, Richard Willis, David Ure.
---
BOOKS
The Power of News - Donald Read
From Castro to Stockmaster - Michael Nelson
Tales from the South Pier - John Jessop ■