Haunts
The FCC - world famous in Hong Kong
Even Reuters has written about it and despite a dwindling population of journalists in the former colony there is still a waiting list to join the Foreign Correspondents' Club of Hong Kong, which once had a hotline from the Reuters office to the Main Bar, legends like the Naked Copper, and a loo with a view immortalised by John le Carré. All this, and more, has made the FCC world famous (in Hong Kong).
---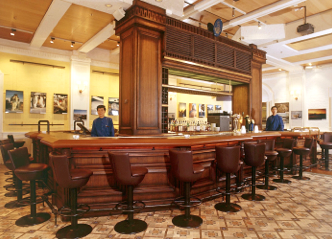 Even Reuters has written about the Hong Kong Foreign Correspondents' Club. In 1997, the great Kurt Schork*, part of the enormous Reuters team assembled to cover Hong Kong's handover to China, wrote a typically perceptive piece with the help of quotes gathered from a classic FCC character I introduced him to at the Main Bar. This gentleman regaled Kurt - as he regales everyone - with the reason why one should not get drunk on a Friday night. "Never have a hangover in your own time."
Kurt was also told of the Wanchai bar girl who sported the unlikely tattoo "God Bless the Shropshire Light Infantry". Both gems were shoehorned into the story by Kurt, whose pieces about Hong Kong were spot on in capturing the city's flavour prior to its return to the motherland.
But where does one start in describing the FCC which, misquoting Mel Brooks, is world famous in Hong Kong?
For a start, as anyone who has had any association with the FCC knows, the Club is awash with anecdotes - some of them even true. One can safely say that many members are deeply into their anecdotage. I personally refuse to believe the one about the FCC member who, glass in hand, tumbled down all 54 steps outside the Club building without spilling a drop.
Reuters staffers - fully clothed - have long been closely associated with the FCC
Club members also have an alarming tendency to indulge in hyperbole. The member who describes the Main Bar as having "the luscious curves of a beautiful woman" is clearly in need of help from the people in white coats. The same could be said of the member who wrote, in all seriousness, that the level of conversation at the Main Bar was akin to that in a forum of Athenian democracy. That's some stretch.
And the FCC has been in existence for quite a stretch in time. It was born in Chongqing in 1943, where, according to one of the FCC's most celebrated members, Dick "Cardinal" Hughes, "Drinking sessions and cultural exchanges at the bar were frequently interrupted by uninvited bombing planes, piloted by non-member Japanese".
The Club has since seen incarnations in Nanjing, Shanghai and several venues in Hong Kong. These included, during the 1950s, a wonderful mansion on Conduit Road which was a set for the movie Love is a Many Splendored Thing.
I joined the FCC in 1970 when it was in Sutherland House and remembered, by male members anyway, for the 14th floor urinal which commanded a splendid view of the harbour - the loo with a view, made famous by John le Carré in The Honourable Schoolboy. (A photograph of that view, with someone looking disturbingly like the British politician John Prescott standing in the urinal, is in the current men's loo.) The Club moved to its present premises, a former depot for the Dairy Farm Co. food company, in 1982.
It was the 15th floor of Sutherland House, also part of the FCC but relatively quiet, that witnessed the Club's famed Naked Copper episode. A Club member, who was a serving policeman and at the time the worse for wear, entered, stripped naked, helped himself to a beer and sat down to watch television. He was convinced he was at home.
Authoritative sources say this happened more than once, and the policeman was so mortified that he resigned his membership. Efforts by Club President Bert Okuley, known to enjoy a drop, although with his clothes on, to persuade the policeman that his behaviour in no way warranted such dramatic action as quitting the Club were to no avail.
Reuters staffers - fully clothed - have long been closely associated with the FCC. Monty Parrott was president in 1950-51, although since then most Reuters members have been just that, thanks to a pompous ruling that decreed that Reuters people should not run for high office in an organisation that campaigns on such issues as - heaven forbid - press freedom.
The company plaque, complete with a small Union Jack, which was attached to the front of the Reuters Saigon office in Vietnam War days, now adorns the Club wall (in an area known as The Bunker, so-called because it was created when the Club President was a German).
Reuters is mostly remembered these days for a period in the 1980s when the news agency had its local headquarters just a hop, skip and 54 steps away from the FCC. Some Reuters people had a habit of taking their lunch and dinner breaks extremely seriously - doubtless carried away by all that Athenian democracy - so much so that the stipulated time limit for the break was honoured more in the breach than the observance. Then someone hatched a cunning plan, in the form of a special hotline 'phone complete with a red light, installed in the Main Bar to summon lingering break-takers back to their duties. The results of this innovation were said to be mixed.
Unlike the United States the FCC has already had its first black president, Keith Richburg of The Washington Post, and our first woman president, Victoria Wakefield of UPI. It also unashamedly calls itself the best press club in the world. Another stretch?
Some members, in a lamentably un-original attempt at self-deprecation, like to say that their Club is for women with a past and men with no future. However, for an outfit supposedly the haunt of deadbeats, and despite a dwindling population of foreign correspondents to draw on, the FCC retains a remarkable vitality. It regularly attracts A-list speakers for lunches and dinners and raises tons of money for a local children's charity.
Would-be members - who these days come from every walk of life - have to join a waiting list. The Main Bar is routinely jammed, particularly on Friday evening, which is known as Zoo Night, although not necessarily for displays of animal behaviour (though there's been some of that, know what I mean?).
A magnum-full of credit for the Club's present success goes to its first non-gweilo manager, Gilbert Cheng, and his magnificent staff, who manage the considerable feat of taking members' sometimes curious habits entirely in their stride.
As someone who can't abide FCC politics - and my God there's plenty of that, it's a complete hornets' nest - I have never aspired to have anything to do with the running of the Club. Another similarly minded soul, Jim Biddulph of the BBC, was finally persuaded to take on the presidency in the mid 1980s. Jim, who died in April 2008, is remembered for one of the best put-downs ever handed out to a peevish member.
That person, outraged at being named and shamed on the Club notice board for not paying his bill, called Jim and fumed: "I have never been so insulted in all my life."
"Oh," said Jim calmly. "I'm sure you must have been."
*Kurt Schork died on 24 May 2000.
PHOTO: The FCC's Main Bar today - minus "luscious curves".
SIDEBAR
Plonk for Hong Kong hacks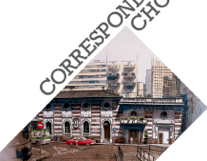 The Foreign Correspondents' Club of Hong Kong, self-described as the world's finest press club, now has something else to brag about: its own label wines. Called Correspondents' Choice, with labels bearing a picture of the Club premises (photo), they are a Chardonnay and a red called Carmanere, which few tipplers have heard of but, we are assured, has "satisfyingly complex tannins". Both wines hail from Chile (supplies were delayed due to the massive earthquake in February 2010).
What are the wines like? Club wine snobs (mostly lawyers) dismiss them. The rest of us approve, particularly as both wines are very acceptably priced.
---
Jonathan Sharp was a Reuters correspondent from 1967 to 1982 when he was in Asia (twice in Beijing), the Middle East, and North America, and from 1983 to 2000 when he was in the United States, South Africa, Hong Kong, Cyprus, and finally back in Hong Kong. His highlight: shaking hands with Nelson Mandela at the South African statesman's Soweto home in February 1990 a week after Mandela's release from 27 years' imprisonment. ■