Library
Film: A Dispatch from Reuters
Director: William Dieterle - Warner Brothers - 1940
---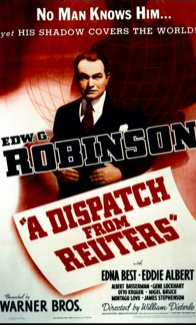 Edward G. Robinson, best known for gangster roles, portrayed Paul Julius Reuter in this 90-minute black-and-white Hollywood biopic. Originally released in the United States in October 1940, when it opened in Britain in September 1941 the title was changed to This Man Reuter.
Robinson played Reuter as cheerfully purposeful and later recalled a special fondness for the part.
During a visit to London in 1942 he was shown around the office at 85 Fleet Street and sat at the News Desk.
Twenty years later Robinson said he particularly enjoyed working on the film because of the insight it gave him into Reuters and because it provided such a welcome break from gangster roles.
The New York Times described his performance as "sincere though not always convincing". Its reviewer liked the film, however, calling it a "creditable job" that was "handsomely mounted".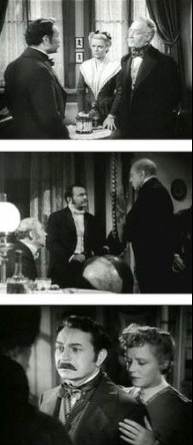 The original screenplay was written by Valentine Williams whose father, George Douglas Williams, had been a Reuters editor during the American Civil War.
Although the script was approved by Reuters the film contained historical inaccuracies. For example, the Crimean War of 1854-6 was substituted for the War of Italian Liberation as the occasion for Reuter's first scoop on 10 January 1859. Another error was to show Reuter addressing the House of Commons from the public gallery, an impossibility. There were others.
The film critic of The Times wrote after the wartime London première that "its general account of the rise of Reuters has not quite the reliability of Reuter's daily service".
Original music for the film was written by Austrian-born composer Max Steiner, Oscar-winning creator of hundreds of classic film scores from King Kong to Gone With the Wind, The Treasure of the Sierra Madre and Now, Voyager.
A poster of the period depicted Robinson in modern dress, looking every bit like the gangsters he usually played and nothing like Reuter. For Americans, Robinson was a bigger draw than the Baron.
The poster carried this intriguing strapline: "No Man Knows Him ... yet His Shadow Covers The World!". The Reuters Archive holds a reel copy of the film from which DVD copies have been made.
CLICK to read the Internet Movie Database entry on this film. ■