People
Trainees
Tuesday 1 January 2013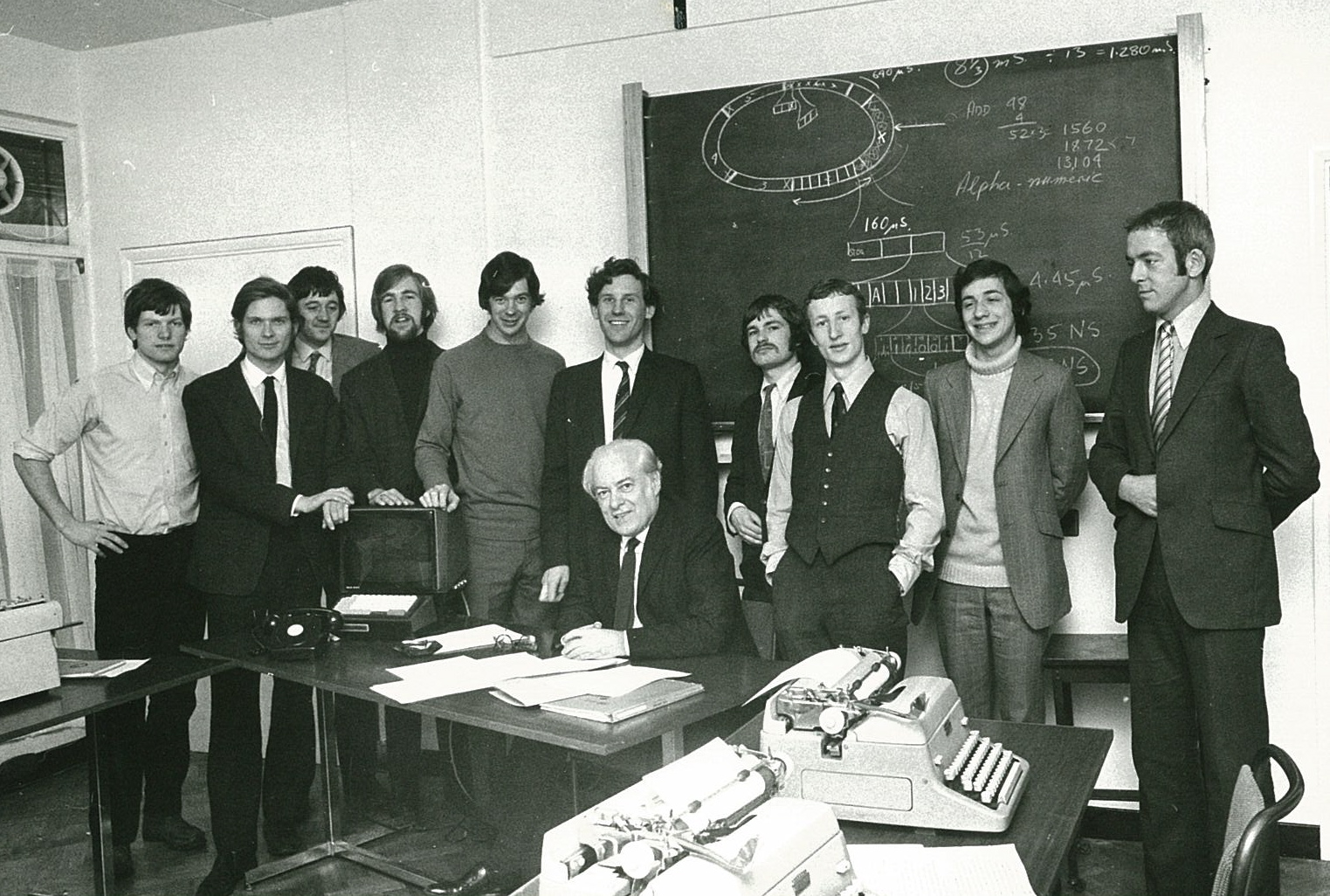 PHOTO: One week of classroom training in 1970. Graduate trainees (L-R): David White, Paul Majendie, Julian Nundy, Barry Moody, Timothy Pearce, Peter Crossley, Martin Dickson, Alex Hargreaves and Robin Lustig. Seated, trainer Arthur Mulcock, and, far right, David Renwick of the staff department.
---
Reuters' journalism training programme, developed after the Second World War, has seen more than 450 people pass through it in the past half century and, though now shorter than for much of that time, attracts thousands of aspiring journalists each year. Few are selected to join what is widely recognised as one of the world's best journalism courses.
Reuters' reputation for excellent on the job training was established long before the war. Years before he achieved fame as author of the James Bond 007 thrillers, Ian Fleming joined Reuters in 1931, aged 23, and quickly made a favourable impression on editors. He showed promise as a potential high-flyer but stayed only two years, leaving for more lucrative employment in investment banking and stockbroking. Fleming never forgot his time with Reuters, however, frequently describing it as "a very good mill". "The training there gives you a good, straightforward style" he said. "It was in Reuters that I learned to write fast, and above all to be accurate because in Reuters if you weren't accurate you were fired."
Until 1947, Reuters recruited staff through "the Old Boys' network". The company needed to bring on board new staff after the war, said Michael Nelson, who joined as a graduate trainee from Oxford University in 1952 and served as general manager from 1976 until his retirement in 1989. It had been hard to recruit during the war with so many young men from top universities, the previous typical Reuters journalists, away on duty. The company ended up with a large number of Irish journalists as they were not conscripted.
After the war Reuters joined forces with Cambridge University to recruit new journalists. The connection was through Sir Christopher Chancellor, general manager from 1944 to 1959, a Cambridge man who saw no need to look anywhere else.
"One of the first trainees, Peter Jackson, is still alive. He went to India and got the big scoop on the conquest of Everest," Nelson told Belinda Goldsmith, Thomson Reuters' global head of editorial learning, who in 2012 reviewed the programme with the aim of being able to more accurately track it and its value to the company. Jackson was the only journalist present in 1953 when Edmund Hillary and Tenzing Norgay returned from their successful ascent of the mountain. He photographed the two with Everest as a backdrop.
Between 1947 and 1952, the company recruited 25 journalists from Cambridge but there was no formal training. As before, journalists learned strictly on the job.
In 1952 Comtelburo, later called Reuters Economic Services, started to recruit for management and journalists from other institutions as well. Oxford graduate Patrick Seale was the first non-Cambridge trainee to be sent abroad. He went to Paris in the mid-1950s.
Adam Kellett-Long joined as a trainee in 1958 on a salary of £14 a week. He recalled being selected with two others after a brief interview with J H B Carter, company secretary, and a longer interview with Walton Cole, editor. The training was exclusively on the job. Kellett-Long's postings included East Berlin as the Berlin Wall crisis erupted, Peking to cover the Sino-Soviet dispute, and Johannesburg during the assassination of South African prime minister Hendrik Verwoerd.
The recruitment process was pretty ad hoc, with the exception of the arrangement with Cambridge, Nelson said. Gradually test papers were introduced for potential new hires. He started to organise recruitment campaigns with Oxford University in 1962 to expand the talent pool.
Michael Reupke, who went on to become editor-in-chief and then general manager, joined Reuters in Paris in 1962 as a "trial trainee". "The trial bit meant that I did not have to be paid a salary," he said. "This was at the height of the Algerian war and most Paris staff were over there in Algiers dodging bullets. Paris desperately needed staff. There was no trainee programme at the time. I learned on the job."
Trevor Goodchild, who joined with other trainees in 1966, said Reuters was one of only two media organisations in Britain to offer a trainee programme in the mid-1960s. The other was The Sunday Times, then owned by Roy Thomson, founder of the Thomson dynasty of Canadian newspapermen who bought Reuters in 2008.
Aspiring trainees had to submit an application form and complete a number of written tests which were based on long, complicated accounts of invented news events. These tests, created each year by a senior Reuters journalist, were full of factual, stylistic and editing traps, Goodchild said.
"The successful candidates received one week of classroom training from a former correspondent, an ex-Australian Navy man called Trevor "Digger" Blore, then they learned on the job, with spells on the various desks.
"At the end of the week's formal training, Digger Blore took us to the Old Bell pub near Reuters in Fleet Street, bought us all a pint of beer to celebrate, and declared: 'Congratulations, gentlemen. You are now proper journalists'. We were pleased and proud to hear that, although it didn't square with the facts."
Alan Riding, who also joined in 1966 and went on to write for the FT, The Economist and The New York Times, said: "My five years in Reuters made possible the rest of my career; I was very lucky to be named a trainee since I had no previous journalistic experience. My only assets were languages and, having been born in Brazil, an awareness that the world was bigger than the UK. And, by the way, I chose Reuters over a job offer from MI6!"
A more formal training programme began in the 1970s with trainees learning shorthand and typing and the programme became more organised in the 1980s under George Short. The Reuters scheme has since come to be regarded as one of the most prestigious journalism trainee programmes. In some years, journalists identified as having high potential were invited to join classes on a so-called fast track.
David Storey, who became a trainee in 1972, said: "After the first week the training was not formal - nothing as instructive and rigorous as the legendary George Short years. Much more sink-and-swim, thrown onto a desk, put a new ribbon in the typewriter, clear the overflowing ash trays to one side, sharpen your pencil and start marking up copy."
"I remember our stints on the various desks, learning to hold our drink with the World Desk dinosaurs, who affected a proletarian loathing of graduate trainees but were actually often quite kind and instructive beneath the veneer of philistinism," said Paul Taylor, a 1977 trainee.
Alan Baldwin, who became a trainee in 1985, said: "Our training by George Short was a fantastic, inimitable and idiosyncratic experience as anyone who knew George will testify, and a solid grounding in good journalistic principles (as well as vital advice on office politics and how to secure bar space in the pub)."
Gareth Jones, who joined in 1993, said: "I was one of several trainees completely new to journalism and had lots to learn but George Short, Colin McKinnon and (the sadly late) Ron Thomson brought to the course just the right blend of serious professionalism, good humour and love for getting the story that got me - and many others - completely hooked."
After the 2008 acquisition of Reuters by Thomson, the two-year programme was reviewed in 2009 when it was put on hold for a year, returning as a nine-month financial journalism programme. It changed again in 2012 when it was made global under a new investment commitment and renamed the Reuters Journalism Programme. Nearly 2,000 applicants vied for 18 places in London, New York and across Asia.
Trainees now spend their first month in the classroom and then rotate around various editorial desks. During that nine months they return to the classroom from time to time and they are assigned a mentor to help guide their career at Reuters.
"It has been an extraordinary experience, both professionally and personally," said Drazen Jorgic, who joined in 2011. "The quality of instruction at the start and subsequent guidance from all the journalists on different desks has been incredible. I still can't believe I'm getting paid to be able to do this."
Apart from producing Reuters board directors and many senior correspondents and editors, the programme can also boast a chief executive of Barclays Bank (Martin Taylor), a recipient of the French Legion d'Honneur (Jonathan Fenby), a list of successful novelists, a Financial Times editor (Andrew Gowers), editor of the New Statesman (John Kampfner) and press spokesman of the UN secretary-general (Martin Nesirky).
The longest serving trainee was Robert "Bob" Evans who joined in 1962 and retired 44 years later in 1999. He still strings from Geneva. Barry Moody, who joined in 1970 and is now editor, southern Europe, is the longest serving trainee still on staff.
Lists of trainees at the bottom of this page were compiled by Belinda Goldsmith in October 2012. Some names may be missing. If you notice any errors or omissions please inform belinda.goldsmith@thomsonreuters.com and editor@thebaron.info.
---
SIDEBAR - THE REUTERS BIBLE TEST
Does anyone remember the Reuters Bible test?
This dates me back to the time before records begin, back to the 1960 graduate trainee intake, Steve Somerville writes.
I was in the last term of my final year at university, Cambridge, but I was definitely not looking for a job. Military service had just been abolished in the UK. I was ready to enjoy two years of unexpected freedom.
The university insisted that I should have at least one career interview. Vaguely interested in international journalism, as a glamorous form of travel, I said: "All right, try Reuters." The careers people were not impressed. They tried to push me towards diplomacy, banking or insurance. With nothing to lose, I insisted: Reuters or nothing. I knew nothing about the company.
A few weeks later I received a letter from Reuters Limited of 85 Fleet Street, with a letterhead in Dickensian copperplate script. The Secretary of the Company invited me kindly to take my copy of the Bible (an odd assumption, I thought), open it at a particular chapter of the Old Testament and refer to certain verses. I was then to render the text into a 250-300 word modern news story and post it back to Reuters. Three additional requests: please adopt the style of a named newspaper (The Times, etc), compose a headline, and say, on your honour, how long you took to do the test. On my honour? Another odd assumption.
I remember wondering about this curious company, Reuters. Who were they? A Christian sect? An intelligence service using Bible-based codes? Or perhaps a small firm of rather bookish Gentlemen Journalists, composing elegant news items - in copperplate handwriting. The challenge amused me, though, so I got to work.
As I read my (borrowed) Bible, I realised that this was actually a very clever test. The first two pages set out some lengthy prophecies and family trees (…begat… begat…). Deeply boring, but I read on and suddenly found that the lead was in the tail. In the last few verses, a king was killed, his army slaughtered and his people transported into captivity. This was a battle that shifted the balance of power in the Middle East. I had my news story.
I sent my hand-written piece off, by post, without any great expectations. Within a few weeks I was called to an intimidating interview at a great oval table in Reuters' panelled boardroom and interrogated by, I think, no less than ten senior members of the Company.
That's another story, but the short version is that I was offered a job, I accepted and I stayed with the Company, in various guises, for ever. It was already a very professional news business, and changing rapidly. Not at all Dickensian.
As for the Bible test, was it a one off? Did anyone else do it? Who devised it?
By the time I thought of asking, no one could remember. Graduate trainees before and afterwards have told me they had to tackle topical news stories for their entry test. Much more professional, certainly. but not in the same class as the ingenious Biblical challenge.
---
REUTERS GRADUATE TRAINEE JOURNALISTS
1962
Robert Evans, David Lawday, Michael Reupke, Peter Smith.
1963
D Blackshaw, J Campbell, Jonathan Fenby, Peter Job, Alex McCallum, Michael Neale, David Wright.
1964
Ian Capps, J Carr, Alexander Chancellor, Robert Hart, A Lambert, Nicholas Moore, P Richards, P Roberts, Christopher Roper, Simon Scott-Plummer.
1965
Donald Armour, Lyn Gambles, Peter Kayser, Denis Lyons, John Mann, John Rogers, Andrew Tarnowski, Alan Thomas, Rhodri Thomas, J Whitton.
1966
Trevor Goodchild, Peter Gregson, A Hutchinson, Guy de Jonquieres, Alan Riding, Len Santorelli, M Watanabe.
1967
J Baines, Marcus Ferrar, Joe Hackett, Colin McIntyre, Jonathan Sharp, John Suchet, Philip Towle, Andre Villeneuve, Frank Vogl, Philip Wardle.
1968
Rupert Cornwell, C Darlington, Geoffrey Ivey, Brij Khindaria, P McCabe, Peter Norman, Derek Parr, I Roberts, John Roberts, Peter Sharrock, David Ure, Graham Williams.
1969
Andrew Bargery, Chris Catlin, M Davis, Michael Duggan, Roger Hayes, Richard Keatinge, Don O'Shea, John Parcell, Nick Parsons, Ian Reddish, Jeremy Toye, James Weeks, Neil Winton.
1970
Peter Crossley, Martin Dickson, Alex Hargreaves, Robin Lustig, Paul Majendie, Barry Moody, Julian Nundy, Timothy Pearce, David White.
1971
Nigel Adam, Peter Griffiths, Brian Mooney, John Morrison, Peter O'Neill, Barry Simpson, Scott Thornton, Patrick Worsnip, Richard Yallop.
1972
Nicholas Bray, Peter Calvert, D Gerwin, Keith Grant, Martin Leeburn, Peter Montagnon, Anne Rubenstein, David Storey, Richard Wallis.
1973
Mark Brayne, Tom Burns, Michael Dobbs, Jonathan Fryer, Andrew Hill, Paul Iredale, Roger Jeal, David Marsh, Robert Salamon, Alan Spence.
1974
Paul Bolding, Charles Dick, Robin Gedye, Steve Kettle, Ed Mitchell, Barry Moore, Stephen Powell, Tim Sebastian, David Smith, Martin Taylor.
1975
Michael Battye, Roger Boyes, Charles Bremner, Julie Craig, Kevin Dunn, Michael Farr, Alexander Nicoll, Hugh Peyman, Jim Poole, Sharon Sandhu.
1976
Tony Allen-Mills, Jeremy Clift, C Davidson, Andrew Garai, John Makinson, Richard Pascoe, Oliver Wates, Mark Wood.
1977
Lesley Chamberlain, Tony Charlesworth, Tom Heneghan, Nicholas Kotch, Colin McKinnon, Michael Metcalfe, Peter Millar, Michael Shuttleworth, Paul Taylor, Malcolm Whittaker, John Witherow.
1978
Hugh Carnegy, Brian Cathcart, Guy Collins, James Dalgleish, Paul Eedle, Bettina von Hase, Jonathan Lynn, Robert Mahoney, Colin McSeveny, James Miura, Alan Philps, Michael Rank, Robert Woodward.
1979
Ralph Boulton, E Carter, Bruce Clark, Roger Cohen, Charles Edinger, Ian Gibson, S Harris, Richard Lander, Clare Lovell, Cheryl McCarthy, Anthony Williams, Helen Womack.
1980
Simon Alterman, Ethan Bronner, Julie Butler, Andrew Gowers, Eric Hall, Stephanie Holmes, Jane Klima, David Lewis, Richard Murphy, Barbara von Ow, S Roberts, Michael Sheridan, Alan Wheatley, Richard Williams.
1981
Mark Baillie, Anthony Barber, Anthony Barker, Tony Carritt, Guy Dinmore, Peter Gumbel, Dorothee Jung, Brian Killen, Victor Mallet, David Stamp, Charles Turpin.
1982
Janet Bush, Matthew Campbell, Adrian Croft, Alister Doyle, Pascal Fletcher, Eiko Fukuda, Andrew Higgins, Peter Humphrey, John Kohut, Ronald Van de Krol, Joanne Mason, Martin Nesirky, Iain Pears, Katerina Syrimi.
1983
Peter Conradi, Simon Cox, Irena Czekierska, David Fritz, Raymond Gijsen, Claire Hargreaves, Frances Kerry, Sarah Lambert, Sandra Maler, Judith Matloff, Regina Murgoth, Michelle Wilbraham.
1984
Leslie Crawford, Nick Doughty, Adela Gooch, Dominique Dee Jackson, John Kampfner, Fiona Leney, Myra MacDonald, Claudia Radar, Floris von Straaten, Stephanie Ulmer-Nebehay, Michela Wrong.
1985
Alan Baldwin, David Brough, Kat Callo, Leyla Ertugrul, Timothy Heritage, Greg Hutchinson, Kathy Marks, Emma Robson, Antonia Sharpe.
1986
Vanora Bennett, Susan Ellicott, Mariam Isa, Paul Johnston, James Kynge, Carolyn Oxlee, Michael Stott, Mark Trevelyan, Adrian Warner.
1987
Meriel Beattie, Thalia Griffiths, Andrew Gumbel, Sonya Hepinstall, Hala Jaber, Miriam Jordan, Martin Langfield, Rosemary Laurent, Kevin Liffey, David Ljunggren, Philippe Naughton, Elizabeth Pisani, Anne Senior, Gill Tudor.
1988
Hester Abrams, Stephen Brown, Philippa Fletcher, John Follain, Sarah El-Gamal, Silvina Gonzalez-Cijol, Lyndsay Griffiths, Julia Hayley, Samantha McArthur, Richard Meares, Matthew Pearce, Jeff Schwimmer, Juliet Towhidi, Keith Weir, Denise Young.
1989
No trainees.
1990
Penny Britell, Caroline Brothers, Charlotte Cooper, Andrew Huddart, Gareth Jones, Patrick Lannin, Sam Phipps, Lorraine Smith, Jude Webber, John West.
1991
Crispian Balmer, Natasha Brown, Caroline Doughty, Dominic Evans, Shinichi Kishima, Kirstin Ridley.
1992
Clar Ni Chonghaile, Mike Christie, Jeff Daeschner, Suna Erdem, Abigail Levene, Chizu Nomiyama, Diarmid O'Sullivan, Helena Pozniak.
1993
Melanie Goodfellow, Kate Kelland, Gideon Long, Elaine Monaghan, Rachel Noeman, Nick Shaxson, Diarmuid McConville.
1994
Melanie Cheary, Roanne Daniels, Joelle Diderich, Caroline Drees, Miral Fahmy, Greg Frost, Andrew Gray, Andrew Marshall, James Ruane, Jenny Scott.
1995
Mure Dickie, Elizabeth Fullerton, Jo Johnson, Mary Kelleher, Thabo Mabaso, Merissa Marr, Priya Ramani, Emma Thomasson, Sonali Verma.
​1996
Catherine Bremer, Paul Carrel, Tara FitzGerald, Simon Gardner, Edwina Gibbs, Justin Jin, Risa Maeda, Scott McCormack, Lewa Pardomuan, Sonali Verma, Nicholas Winning.
1997
Silvia Aloisi, Nikla Gibson, Mike Kramer, Sara Marani, Ellis Mnyandu, Claudia Parsons, Elizabeth Piper, Braden Reddall, Alistair Thomson, Patrick White.
1998
Ritsuko Ando, Ed Cropley, Chisa Fujioka, Matthew Green, Will Hardie, Lisa Jucca, Jeremy Page, Karen Richardson, William Rosato, Daniel Simpson, Michael Steen, Tamora Vidaillet, Genny Wilkinson.
1999
Jane Barrett, Edwin Chan, Sarah Cheung, Hannah Cowdy, Carmel Crimmins, Elisabeth Eaves, Dan McLaughlin, Katie Nguyen, Rajiv Sekhri, Alicia Seow, Jess Smee.
2000
Tom Armitage, Niala Boodhoo, Clara Ferreira-Marques, Rebecca Harrison, Stephanie Holmes, Cynthia Johnston, Claire Soares, Nicholas Tattersall, Natsuko Waki.
​2001
Haris Anwar, Oliver Bullough, Kerstin Gehmlich, Maria Golovnina, Juliana Liu, Laura MacInnis, Tom Miles, Tom Perry, Toby Reynolds, Emma Ross-Thomas, Rachel Sanderson, Suzana Sava, Jessica Shepherd, Estelle Shirbon, Catherine Sung, Elie Tzortzi.
2002
Katie Allen, Corinne Amoo, Richard Ayton, Annika Breidthardt, James Crawford, Emma Graham-Harrison, Ben Harding, Opheera McDoom, David Milliken, Francois Murphy, Christian Oliver, Sonia Oxley.
​2003
Laith Abou-Ragheb, Peter Apps, Meg Clothier, Sophie Hardach, Alexandra Hudson, Tristan Jones, Louise Knowles, Mark Meadows, Ceri Radford, Chris Slocombe, Quentin Webb, Sabina Zawadzki.
​2004
Mohammed Abbas, Yara Bayoumy, Nima Elbagir, Matt Falloon, Marie-Louise Gumuchian, Izabella Kaminska, James Kilner, Alaa Shahine, Karin Strohecker.
2005
Olesya Dmitracova, Catherine Hornby, Talal Malik, Summer Said.
2006
Chris Baldwin, Philip Boyes, Amie Ferris-Rotman, Agnieszka Flak, Ola Galal, Tahani Karrar, Simon Rabinovitch, Sylvia Westall.
​2007
Bate Felix, Chloe Fussel, Raissa Kasolowsky, Sarah Marsh, Golnar Motevalli, Alastair Sharp.
2008
Harpreet Bhal, Catherine Bosley, Martina Fuchs, Paul Lauener, Kylie MacLellan, Farah Master, Phakamisa Ndzamela, Nicholas Vinocur.
​2009
No trainees.
2010
Isabel Coles, Caroline Copley, Brenda Goh, Michel Rose, Alina Selyukh, Tommy Wilkes, Nia Williams, Anna Yukhananov.
2011
Philip Baillie, Ethan Bilby, Drazen Jorgic, Clare Kane, Lily Kuo, Michelle Martin, Naomi O'Leary, Alessandra Prentice, Yeganeh Torbati.
2012
Atossa Abrahamian, Dasha Afanasieva, Alice Baghdjian, Isla Binnie, Paul Carsten, Gabriel Debenedetti, Stephen Eisenhammer, Natalie Huet, Clare Hutchison, Adam Jourdan, Adam Kerlin, Yimou Lee, Shadia Nasralla, Costas Pitas, Megha Rajagopalan, Peter Rudegeair, Anna Louie Sussman, SoMang Yang.
2013
Freya Berry, Shadi Bushra, Julia Fioretti, Joshua Franklin, Michael Gold, James Pearson, Adam Rose, Natalie Thomas, Alexander Winning, Alice Woodhouse.
2014
Ahmed Aboulenein, Yasmeen Abutaleb, Sam Adams, Julie Edwards Ainsley, Charlotte Greenfield, Curtis Skinner, Jake Spring, Liisa Tukhanen, Sam Wilkin, Thomas Wilson, Sue-Lin Wong.
2015
Lisa Barrington, Tina Bellon, Angus Berwick, Makini Brice, Gina Cherelus, Minami Funakoshi, Bethel Habte, Brenna Hughes Neghaiwi, Jessica Macy Yu, Kit Rees.
2016
Jackie Cai, Ritvik Carvalho, Ellen Francis, Tuvan Gumrukcu, Peter Hobson, Xu Muyu, Helen Reid, Adela Suliman, Renita Young.
2017
Nadine Awadalla, Sarah Dadouch, Polina Ivanova, Stephanie Kelly, Fanny Potkin, Emma Rumney.
2018
Gabrielle Borter, Nafisa Eltahir, Juliette Jabkhiro, Tuqa Khalid, Lena Masri, Yousef Saba.
2019
Colm Fulton, Elizabeth Howcroft, Clara-Laeila Laudette, Alexander Marrow, Arriana McLymore, Victoria Waldersee. ■