Haunts
The delightful Nelly and her petit salé aux lentilles
Nowhere but Paris could be home to a cheap and cheerful bistro that featured a statuesque blonde waitress called Nelly, a bar nicknamed Smelly's after its malodorous patron, and everywhere plenty of vin rouge. Memories are vague, possibly clouded by alcoholic haze.
---
Back in the mid-1970s, when the Paris bureau was located in a rather splendid Belle Epoque building on the rue Réaumur (photo), the bistro of choice was known to all as The Brouillet Brothers. Maybe it had a proper name, but nobody seems to remember.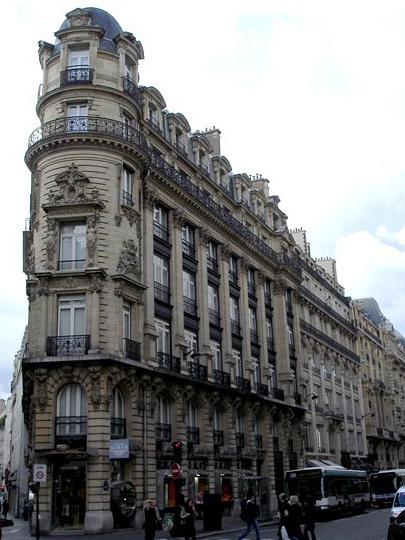 Just a stone's throw from the office, in the narrow little rue Paul-Lelong, it was a typical French lunchtime restaurant with red check tablecloths, hard wooden chairs and a statuesque blonde waitress d'un certain age called Nelly.
The habit of the morning shift was to check out the news flow, clear whatever had to be cleared, shoot off a skedline or two to London and then repair to "the Brothers" for an early lunch before Le Monde landed and the nightleads had to be written. It was cheap and cheerful and Nelly's speciality, petit salé aux lentilles washed down by the lusty vin rouge du patron, was much in demand.
If things got lively back at the office, anchorman Louis Marcerou would send out an SOS and the lunchtime set would totter back to work. On quieter days, Nelly tolerated the increasingly voluble journalistes britanniques and brought another bottle of rouge.
Happy days, but sadly "the Brothers" is long gone, along with a number of other popular local haunts in the 2ème arrondissement, reports Bernard Edinger, an old chum from Paris bureau who still lives in the City of Light.
One such was the bar on the corner of rue Réaumur and rue Montmartre, nicknamed "Smelly's" by bureau habitués because of its malodorous patron. Many a happy hour was wasted there drinking too many demi pressions while trying not to faire tilt on the bar's excellent pinball machines.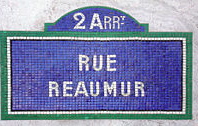 Martin Leeburn, a bright young thing in the Paris bureau at the time, delved into his memory bank: "Maybe it's the delayed effects of all that red wine, but I can't remember a lot beyond the Brouillet Bros. I did a lot of lates starting at 7 and there weren't many places open to eat before then, so I used to go to Joe Allen's in rue Pierre Lescot, which was on the walk to work. Also Aux Deux Saules in rue St Denis.
"There was a couscous place up the rue du Faubourg Montmartre - Aron Fils de Tunis? And a very good Cambodian near Strasbourg St Denis metro where I went with Julian (Nundy, another bright young thing). We must all have gone to Chartier at some point. And I remember standing at the bar at Au Pied de Cochon because Bernard's mate Olivier had a bad back.
"But none of the above was really an office haunt. The lunch alternative to the Bros. I remember, was a place on the north side of the rue Réaumur opposite Sentier metro, much favoured by David Lawday (the then bureau chief) because of the patronne ... but I can't remember the name!"
Julian Nundy, still in Paris and now working for another brand, did remember the name: "The one just opposite the office, which had absolutely no redeeming features except that it was close, was Le Reau (photo). Definitely Auvergnat (in other words, very dour). It still exists".
Winning chips in: "Seem to recall that Julian was about to get married at the time so he may not have noticed the patronne, who was definitely worth a second look. The patron, her husband, on the other hand was not to be trifled with… "
Martin plumbed his memory bank still further: "There was a bar in the rue Réaumur which served a bottled English beer called Martin's, from Reading, where I remember I once delayed you beyond all Fay's (Mrs Winning's) understanding... Louis (Marcerou) was partial to a Martin's as well. I've looked for it and I don't think they make it any more. Was that the one with the useless pinball machine?"
Julian to the rescue: "I do vaguely remember several occasions when Fay's understanding was put to the test. Might the Martin's place not be the bar just opposite Smelly's, probably just in the rue Montmartre, that we began to frequent to humiliate Smelly?"
Roger Crabb (Paris bureau 1976-1982) writes: You could argue that it was Reuters London which killed off the flourishing business of the Messrs Brouillet.
One early spring day in 1981, some weeks before the presidential election, an edict arrived from London newsdesk demanding an immediate end to the Paris bureau's venerable aforementioned early skedline/late nightlead tradition. Henceforth, we were enjoined to file the big political story BEFORE taking lunch, and this was impossible to do without having read Le Monde, which never arrived on the desk before 1:30 pm.
You could argue that it was Reuters London which killed off the flourishing business of the Messrs Brouillet
Thus, for all practical purposes, there was no way to leave for lunch before 3-3:30 pm, by which time the delectable Nelly had put up the shutters. Louis (Marcerou), Bernard (Edinger) and I would be reduced to trudging the streets looking for sustenance and a safe haven, and were usually cruelly disappointed.
What this did for the Brouillets' bottom line one can only surmise. But by early 1982 the bistro had gone for good, to be replaced by an INDIAN restaurant, the first in the quartier and a resounding flop. I urgently sought asylum in China.
Chris Peterson* (Paris bureau 1982-1986) writes: I would hate to contradict such a renowned Parisian trencherman as Roger Crabb, who I replaced in Paris in 1982, but I fear the Brouilly consumed in heroic quantities at Les Frères may have interfered with the memory banks. The restaurant was still going strong when I arrived and Louis Marcerou quickly introduced me to la bavette à l'echalotte, a swift bottle or two of Brouilly and a bracing coffee, served of course by the charming Nelly. I also managed a first - a weekend in Derbyshire with George Short** and Harvey Morris ended with me taking a pyramid-shaped black-pudding back to Les Frères. I had previously entered into a spirited discussion of the merits of boudin noir versus black pudding with one of the frères, ending with a pledge to bring some genuine black pudding back on my return. Much tasting and sampling ended with the accolade "Pas mal, m'sieur, pas mal".
I left Paris in 1986 and when I went to Hong Kong in 1988 my first act was to fulfil a promise to Louis to come and spend a couple of weeks with us there on his retirement. After a brief exchange of courtesies Louis and I repaired to the FCC for a few stimulating drinks. Down to business - what, I enquired of the great man, had happened to Les Frères? Louis produced a large handkerchief, blew his nose, and said he'd gone back a few weeks after his retirement to carry out some business in rue Réaumur and decided to go to lunch chez Les Frères. He became visibly upset as he said he'd first been greeted at the door by some sort of maitre d' (he called him a greeter, in a rather dismissive fashion) wearing A BLAZER. Louis sat down at a table covered with a red-chequered tablecloth, and was presented with a PIZZA MENU. What, I asked Louis, did you do? "Cher ami, I left, and have not gone back."
*Chris Peterson died on 28 July 2017.
**George Short died on 1 June 1997.
---
Tony Winning, editor, Asia when he retired in 2000 after a 32-year career with Reuters, had two assignments to France in the late 1960s and 1970s. He still thinks of Nelly, the more so her petit salé aux lentilles. ■