The Reuter Society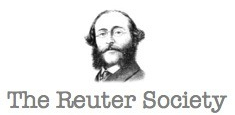 The Reuter Society is a club or social network for anyone who has ever worked for Reuters, or Thomson Reuters, and wants to keep in touch with former colleagues.
Founded in 1990, the Society states in its Rules that its first purpose is "to preserve and continue the comradeship developed among the Members during their work for Reuters".
It is independent and neutral: "The Society shall not adopt or express a view of its own on any questions or topics."
The overall purpose is to promote socialising and networking among professionals from the business of news and financial services, communications and information technology.
MEMBERSHIP
Members may have worked for any branch of the Reuters or Thomson Reuters group, anywhere in the world, in editorial, finance, legal, HR, communications, marketing, sales and technical.
ORGANISATION
The Society has its virtual headquarters in London, with about 260 subscribing members around the world. In addition it has a lively virtual network that is spreading internationally through the social media Linkedin and Facebook. A Reuter Society of America has its own Facebook group.
The Society is run by a committee drawn from all branches of the Company.
They are Steve Somerville (chairman), Corinna Stowell (secretary), Tony Keating (treasurer), Nancy Bobrowitz, Michael Cooling, Peter Gregson, Barry May, John Ransom, Phil Wardle.
ACTIVITIES
Faced with the Covid pandemic in 2020, the Society switched from physical to online meetings (see The Baron's Briefings).
Previously, we had held four regular members' meetings a year, usually at St Bride's Institute off Fleet Street, London, with a speaker followed by a convivial buffet reception. Speakers ranged from senior Thomson Reuters executives to colleagues with a good post-Reuters story to tell, such as thriller writer Frederick Forsyth.
Every two years or so, the Society organised a group excursion. Destinations included Lille, Edinburgh, Geneva, Paris and Vienna.
Partners are most welcome to join in the Society's activities, online or, in due course again, in person.
---
Communications in a Time of Plague
---
Reuter Society groups on
PREVIOUS SPEAKERS
See The Baron's Briefings for speakers since July 2020.
Prior to the pandemic, most speakers talked at Reuter Society meetings held at St Bride's Institute, off Fleet Street, London. ■