Columns
From facts to fiction: Reuter novelists I knew
Friday 4 October 2019
Ian Fleming, the creator of James Bond, was at Reuters three decades before me but I had the good fortune of working with seven other Reuter journalists who became novelists.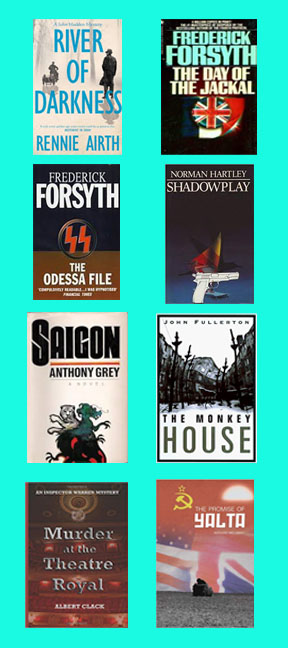 Rennie Airth, a bespectacled South African who had been our man in Havana, took over the Saigon bureau from me in 1965 as the Vietnam war escalated and the US and North Vietnam poured thousands of troops into the conflict. After a few hectic months in Saigon, Rennie resigned to write novels. His first in 1969 was Snatch, the humorous story of a British passport forger in Rome who gets involved in the kidnapping of a baby. River of Darkness, part of his brooding John Madden trilogy, was about a Scotland Yard detective inspector who, like Rennie's uncle, had experienced the horrors of the First World War.
Frederick Forsyth and I, both in our 20s, joined the London Bureau about the same time in 1965. He had just arrived from East Berlin and I from Saigon. A wizened editor with a permanent frown sent back my copy twice for a rewrite. In sympathy, Forsyth whispered: "Don't mind him. He's a frustrated hack who has never had a posting and never will." After leaving Reuters Forsyth published The Day of the Jackal about an assassination attempt on President de Gaulle. It was a runaway success, selling more than two million copies worldwide. A string of bestsellers followed, including The Odessa File, The Fourth Protocol and The Dogs of War which were all made into films.
Forsyth became a wealthy superstar. Many journalists aspired to emulate him. To test a theory that The Day of the Jackal had been written by a team, several foreign correspondents in Madrid decided after a few drinks to collaborate on a novel, with each one contributing a few chapters. I do not know how the project turned out.
Norman Hartley, who once sold beer in Africa, was my bureau chief in Rome for a while before he was called back to London to become an assistant staff manager. He left Reuters to join the BBC. One rainy evening we met by chance during our meal break at a Chinese restaurant in Soho. He said he had started writing thrillers and sent me a copy of Shadowplay, a racy tale of spies and journalists. He also wrote The Saxon Network, The Viking Process and Quicksilver.
Anthony Grey was Reuters correspondent in Peking during Mao Tse-Tung's Cultural Revolution. He was held under house arrest for more than two years. I was posted to Hong Kong in 1969 to cover China safely from outside as Grey flew back to London. He recounted his ordeal in Hostage in Peking and then turned his hand to fiction. Using the imagination that helped him survive solitary confinement, he produced several novels including Saigon, The Chinese Assassin and Tokyo Bay. His works graced the display windows of bookshops across Britain. I met him for the first time at a party hosted by an old China hand in Berkshire and again at meetings of The Reuter Society.
John Fullerton, a former chief correspondent in Beirut, was a chief subeditor on the World Desk. I prepared the desk duty rota for many years and was puzzled that he often volunteered for the unpopular solo overnight shift. The graveyard shift was usually quiet because responsibility for editing the world news file switched at night to Hong Kong where it was daytime. I later learned that John wrote fiction during his shifts. His books include The Monkey House about the Bosnia war which he covered, Give Me Death, set in Lebanon, A Hostile Place and White Boys Don't Cry. His latest novel, The Reticent Executioner, was published this year. He wrote it as a present to himself on his 70th birthday.
Bernard Melunsky was also a World Desk chief subeditor. He wrote The Promise of Yalta after he retired. Published in 2009, it is about an idealistic young aide to Winston Churchill at the 1945 Yalta Conference. Churchill, Roosevelt and Stalin drew the map of the post-war world at that meeting. Unable to find a copy in my local library, I ordered it from a second-hand Amazon bookshop. It came with a handwritten dedication from Bernie - to a neighbour in Twickenham. I would not be surprised if one of these days a Hollywood producer turns it into a blockbuster film with Daniel Radcliffe (the adult Harry Potter) playing the role of Churchill's Cambridge-educated assistant.
Albert Clack, who died last month, landed on the World Desk after being thrown out of Cuba, a country he loved. Long after he left Havana in 1981 he continued to receive letters from Cuban friends which he let me read as we dined in the office canteen. The canteen served fish and chips on Fridays, recycled into fish pie on Saturdays. After Reuters, Bert dabbled in the property market and worked in television before retraining as an actor at the age of 59. It was while playing Polonius in Hamlet that he was inspired to write Murder at the Theatre Royal which was published in 2015. It was followed by Murder of a British Patriot.
Wishing to save a few trees and help slow down global warming, I have not published any books but my name slipped into one. An Italian novelist wrote about the first papal assassination attempt in modern history and credited me, my Reuters colleague Alexander Chancellor and Philippine President Ferdinand Marcos with saving Pope Paul VI at Manila International Airport in 1970. "A triumph for Reuters," he said.
---
PHOTO: The fiction behind the facts. ■