Columns
Refugee crisis dominates news industry powwow
Friday 30 October 2015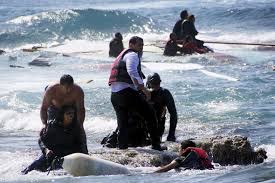 Lindsey Hilsum, international editor for Britain's Channel 4 News, was discussing her years as a foreign correspondent based in China and elsewhere.
Everybody used to call her an "expat", she told a packed hall in the heart of Berlin.
BBC news presenter Clive Myrie fired back: "They call me a migrant."
Hilsum is white. Myrie is black. Both are British.
The exchange got a laugh at the panel discussion Myrie was moderating at News Xchange, a major annual media conference. It also highlighted the political charge that language can carry in coverage of the biggest movement of displaced people in Europe since the Balkans conflict.
The role of media to provide objective context and texture to rolling stories was a recurring theme at the gathering of news executives, programmers, editors and reporters.
Seventy years after the end of the Second World War and 25 years after the collapse of the Iron Curtain, Berlin was the perfect setting for a conference whose stated aim was to infuse "complexity, respect and creativity" in our coverage of seminal events.
If we would slam the door in the face of people who need help, Europe would lose its soul
Germany expects to receive more than 800,000 displaced people this year, more than any other country in the European Union. Along with Sweden, it has become a symbol of hope for hundreds of thousands on the move from war, instability and poverty.
How journalists cover that story offers insight into other issues bedevilling our industry, including "parachute" journalism versus local know-how, whether or not we should try to control hate speech and the relationship between media and tech companies.
The refugee and migrant crisis percolated into my own session, titled "Investigative collaboration: How are news competitors teaming up to break stories across borders?" (this short video sets the scene).
Among other things, Brigitte Alfter, Europe Editor for JournalismFund.eu, and Nicolas Kaiser-Bril, CEO of Journalism++, discussed the challenges behind the award-winning Migrants Files, which brought together journalists from 15 countries to quantify the numbers of refugees and migrants who have died trying to enter Europe.
But the liveliest debate revolved around language.
While Hilsum prided herself on shunning watery terms like "floods", "surges" and "waves" when covering people on the move from Syria, Iraq, Afghanistan, Eritrea and Libya, the BBC's head of newsgathering, Jonathan Munro, defended the broadcaster's decision to use "migrants".
He said the term had no pejorative connotations and was an accurate description of Syrians or Iraqis heading for northern European destinations, say, after being displaced for several years in Turkey or Hungary.
Not so, said Melissa Fleming, head of communications for the UN refugee agency UNHCR.
"We would disagree that people coming from Turkey are not refugees once they leave."
Al Jazeera has banned the m-word, except in cases where it applies without question to people - like me - who have moved countries for jobs or economic reasons. Reuters tends to use "refugees and migrants".
German press almost universally uses the politically neutral term "Flüchtlinge", which roughly translates as "someone who flees", said Peter Frey, editor-in-chief of ZDF.
The golden quote award for this year's NewsXchange goes to Germany's media-savvy defence minister, Ursula von der Leyen, whom some say may be a possible future contender to succeed Angela Merkel as chancellor.
"If we would slam the door in the face of people who need help, Europe would lose its soul," she said, discussing Germany's approach to integrating asylum seekers at home and tackling Islamic State abroad.
A close second goes to Jean Philip de Tender, media director of the European Broadcasting Union, in a speech titled "Slow is the new fast".
"The world today is fast and therefore needs an answer that is slow… Your role has shifted from explaining the facts to providing the context in which to read the world."
Less bombastically, he quoted NewsXchange Managing Director Amy Selwyn: "Instant coffee is only good when there's nothing else available."
---
Timothy Large was until recently director of media development and commercial training at the Thomson Reuters Foundation. He is former editor-in-chief of the Foundation's global news services dedicated to covering the world's under-reported stories including humanitarian crises, women's rights and corruption. Before that, he was a Reuters correspondent. He is now on sabbatical, writing a book. ■