Comment
The Vanity Fair Baron
Monday 11 May 2020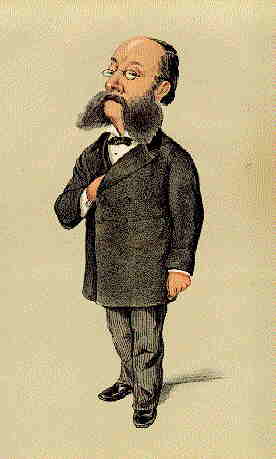 I read with some amusement, in The Oldie magazine, that two Vanity Fair "Spy" caricatures had been spotted on the walls of the Prince of Wales' Balmoral home, while he was opening a hospital by video link, in that now popular lockdown practice of bookshelf/artwork noseyparkering.
It piqued my interest as I have a Vanity Fair original of the Baron cartoon, and accompanying page of text, entitled "Telegrams" and dated Dec. 14 1872 - which is also in this noble website's archives, but which does not include the name of the author of the potted biography.
This is signed off as by "Jehu Junior", after the biblical prophet who effected the downfall of his enemies, the nom de plume of the founder of Vanity Fair (and The Lady) himself, Thomas Gibson Bowles - another of the outstanding figures of Victorian journalism.
Bowles had started his career at the Morning Post in 1866, before borrowing £200 pounds to found Vanity Fair in 1868, and made his name reporting the Siege of Paris in the Franco-Prussian war of 1870-71 - sending his copy by balloon and pigeon post!
He spoke with great authority in his profile of Baron Julius in 1872, writing "all the telegrams of Europe are indeed practically in the control of one man ... and it is pleasing to know that he has never yet been suspected of a conscious purpose to use them for the interests of a particular individual or country".
He edited Vanity Fair for 20 years, before selling his stake for £20,000 in 1887 and was the subject of the magazine's caricatures two years later.
While the caricatures are generally referred to as "Spy cartoons", Spy" himself - Leslie Ward - was only the third illustrator of a series that ran to 2,300 caricatures from 1869 to 1914, the last one being of Joseph Chamberlain. Queen Victoria, who in her dairies referred to Baron Julius as "someone who generally knows", was featured in 1897.
I also discovered that my "Spy" original from 1872 had been the work of the second illustrator, "Delfico" - an Italian artist, composer, singer, conductor, writer and friend of Giuseppe Verdi, Baron Melchiorre De Filippis Delfico, another noble known as the "Prince of caricaturists". ■