Editorial
Definitively not Reuters
Monday 30 July 2018
The Refinitiv transaction sounds like the title of a racy airport paperback. In fact, it's the end of a 167-year association with the Reuters brand.
Refinitiv is the new name of the financial and risk business created out of the terminals and data money spinner acquired by the Thomson organisation when it bought Reuters ten years ago. Foreign exchange trading platforms and market data services are wrapped in the package.
A 55 per cent majority stake in F&R is now passing to Blackstone, the world's largest private equity firm, for $20 billion. Thomson Reuters, controlled by the Thomson family of Canada, will receive $17 billion, mostly funded by debt. Thomson Reuters is hanging on to the remaining 45 per cent in a strategic partnership with Blackstone. Some 22,000 people - almost half of Thomson Reuters' staff - are switching to the new company.
European Union regulators approved the transaction a week ago.
While Blackstone has been cleared to acquire control of F&R, it could not acquire the Reuters name to which that business was attached and which helped to sell its services. The Thomsons are also retaining the global news organisation founded by Paul Julius Reuter in 1851 which operates as Reuters News. Refinitiv will be its largest client by far with a 30-year contract worth at least $325 million a year.
The deal pits two Wall Street billionaires in a battle of the behemoths for financial information supremacy: Blackstone co-founder Stephen Schwarzman against former New York Mayor Michael Bloomberg, founder of the eponymous financial data firm. The prize: Dominance of the multi-billion dollar market for financial data services.
It's a battle that Bloomberg is already winning.
F&R provides market data, analytics and trading terminals to banks worldwide. It generated more than half of Thomson Reuters' annual turnover. Reuters once dominated that market. But its share since the 2008 takeover by the Thomson organisation has gone into reverse. Bloomberg overtook it in 2016 and is stretching its lead.
Although F&R has been in the doldrums since the 2008 crash, market watchers see it as an undervalued asset in a sector characterised by robust growth and a raft of new data-hungry regulatory measures.
David Craig, who joined Reuters in 2007 as group strategy director, has served as president of F&R since 2012 and will head the new entity. He says the new name was created on the basis of feedback from customers and industry influencers on the intrinsic value of the financial and risk business.
In a message telling staff "Why we're excited about Refinitiv," he explained the new name this way: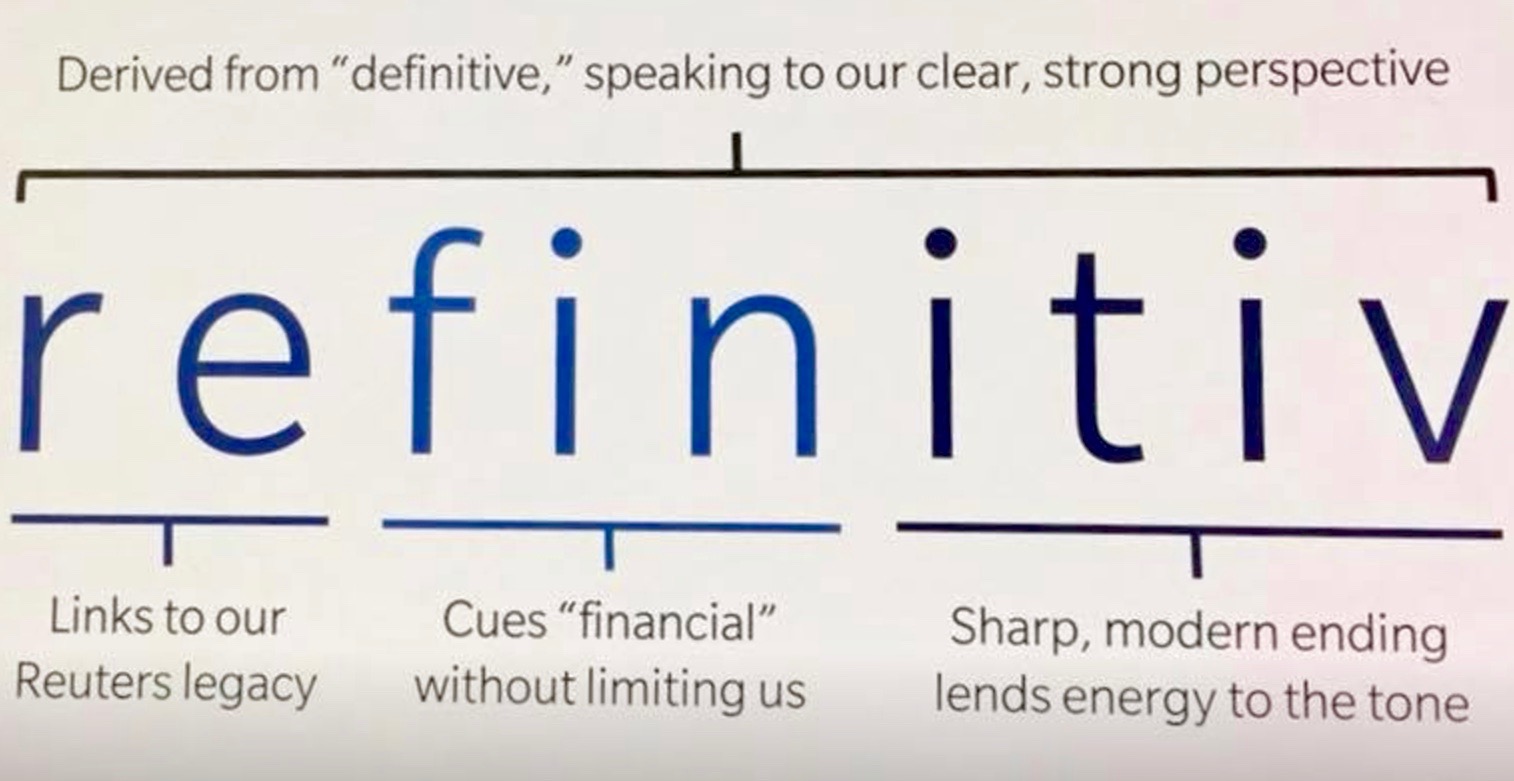 It's "Derived from 'definitive,' speaking to our clear, strong perspective."
- re "Links to our Reuters legacy"
- fin "Cues 'financial' without limiting us"
- itiv "Sharp, modern ending lends energy to the tone."
"It is a name that aims to blend definitive action in financial markets and a bold focus on the future with a 160-year legacy of excellence as a pioneer in financial technology," Craig wrote.
"Thomson Reuters financial and risk has a rich history and reputation and it was important to us that our new name celebrated both our pride in our legacy and also the defining role we will continue to play as an integral and innovative part of the financial markets community."
Congratulations poured in on LinkedIn, the social media site for professionals. Asked whether the old Reuters name would continue anywhere, Craig replied: "Thomson Reuters, Reuters News and many Reuters products. We reflect on our Reuters long history and heritage and move forward to the future with our new name and identity. Reuters will absolutely exist as the leading trusted global news source, and we will continue to have Reuters news firmly embedded in our products, Eikon, Elektron, Wealth and other products under a 30 year contract."
On Facebook, old school Reuters alumni commented that Refinitiv "Sounds like a medical treatment," "Washing powder," "anti-wrinkle face cream," "a typo". "In one word, Terminal," one wag wrote.
"What a sad day. And such an uninspiring name," wrote another, adding: "I will always be proud to have worked for Reuters." ■