Library
Enthusiasm, determination and an element of luck
GILBERT SEDBON - From the Nile to the Seine: The lifelong story of a reporter in wars, revolutions and peacetime - LMB Lovemore Books - 2010
---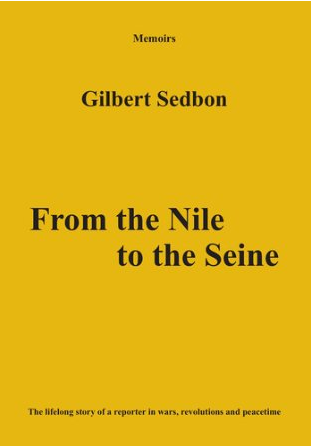 Gilbert Sedbon's life falls into two distinct parts, linked by a dominant common factor: Reuters. In these memoirs, he tells the extraordinary story of his 48-year career as a Reuters correspondent, based first in Egypt and then in France. It's a very good read. Now in his 90s, Gilbert gives us a vivid recollection of many news stories - and personal scoops - dating back to Alexandria before and during the Second World War. He paints a fascinating picture of Egypt after the war, its wealthy high society and visiting celebrities, and of its decline into the violence of Middle Eastern politics. He also tells the moving tale of a young family abruptly uprooted from their home country, Egypt, during the 1956 Suez Crisis, and making a new life in exile in France.
Gilbert was born into a prosperous French family in Alexandria in 1917. He joined Reuters in 1935 at the age of 18. His first job was reporting cotton prices, the main source of Egypt's wealth, for Reuters' economic services. World War Two gave him his chance to excel at reporting major international stories. One of the first was a wartime victory for secret diplomacy: a "Gentlemen's Agreement" between British and French admirals to disarm Force X, the French naval contingent based at Alexandria, without bloodshed. An ingenious compromise, reached after tense negotiations, prevented the French warships from falling under German or Vichy French control. Gilbert pieced the story together from contacts he had made at the French Club Nautique in Alexandria. It made headlines around the world, long before the British Government published the agreement.
A sadder story that Gilbert recalls reporting was the wartime death of his first boss, Alexander "Jock" Massey-Anderson, Reuters manager in Alexandria, who was covering the Eastern Mediterranean as a naval correspondent. He drowned after his ship was torpedoed just outside Alexandria harbour. Gilbert's report, based on interviews with survivors, ran prominently in the British and Allied press.
And so on, throughout the war and the troubled peace that followed, Gilbert pursues every story with the same enthusiasm and determination, as well as, by his own admission, an element of luck. His advice to newcomers to journalism is: "Chance often smiles on the reporter in the field - if he grabs it fast." His own natural curiosity and his ability to establish contacts at all levels were other key elements in his successive scoops. It was an anonymous contact who tipped him off by telephone to the Egyptian Army's coup d'état in 1952. International communications were immediately cut off but Gilbert managed to intercept the senior army officer who was about to broadcast news of the military takeover. The officer not only helped Gilbert to write an official English version of the Arabic announcement but then ordered the military censor to release his story, alone among the world news agencies. Gilbert had a global scoop plus a first rate contact: the officer was Colonel Anwar Sadat, later to become President of Egypt.
The news story that changed Gilbert's life for ever was the Anglo-French Suez Canal expedition of 1956, when most foreigners were ordered out of Egypt. Together with his 20-year-old wife, Yolande, and their baby son, Eric, Gilbert was given 48 hours to wind up the affairs of a lifetime and fly off into exile. After brief stays in Rome and London, Reuters posted him to Paris - "for three months". It proved to be his base for the rest of his long career. But that's another story. Book Two of these memoirs tells how Gilbert turns his reporting talents to the Cold War, defence and the aerospace business, while his young family - with the addition of a second son, Thierry - settle down, overcome some tough times and make France their new home. Paying tribute to his wife, he says: "Yo deserves all the praise and more." From the Nile to the Seine, the whole book is an impressive testimony to a man's passion for his profession and devotion to his family.
---
Stephen Somerville worked with Gilbert Sedbon in Paris and elsewhere. The autobiography was self-published in a limited edition under the auspices of Anthony Grey in his Lovemore Books imprint. It may be re-printed if there is sufficient demand. Anyone wishing to purchase a copy should contact Grey at anthonykgrey@btinternet.com. ■