Library
Fame at 24 - in a D-Day ditch
DOON CAMPBELL - Magic Mistress: Thirty years with Reuters - A memoir - 1998, republished as Magic Mistress: A 30-year affair with Reuters - Tagman Press - 2000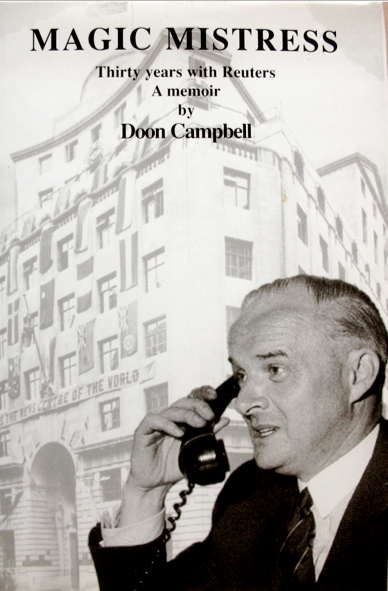 Doon Campbell (Reuters 1943-1975) would achieve the high offices of editor and deputy general manager of Reuters. But it was an assignment at the age of 24 that gave him lasting fame: he was the first and the youngest British war correspondent ashore with Allied invasion forces in Normandy on D-Day, 6 June 1944, filing his first dispatch from the dateline "A ditch 200 yards inside Normandy".
Campbell, born without a left forearm, then advanced with the Allies "from the rubble of Caen to the champagne and oysters of liberated Brussels; then Arnhem and crossing the Rhine, then Belsen... the Elbe, and finally the surrender of Germany".
This autobiography of an action-packed career rattles on at Campbell's customary rapid clip, taking in assignments in Burma, China, France, Indochina, India, Iraq, Italy and Jordan.
When Campbell died on 26 May 2003 aged 83, former correspondent Anthony Grey (Reuters 1964-1970) described him in an obituary in The Guardian as a "uniquely gifted and courageous journalist".
In 1969 Campbell had flown to Asia to escort Grey home after the younger man, a prisoner of Mao Tse Tung's Red Guards during China's Cultural Revolution, was released from 806 days' solitary confinement in the Reuters house in Peking.
Hostage in Peking, Grey's account of his house arrest based on a secret diary he had kept, was published in 1970 and became a best-seller. ■