Library
From Fleet Street to Berlin, a first rate reporter's story
PETER MILLAR - 1989 The Berlin Wall: My Part in its Downfall - Arcadia Books - 2009
---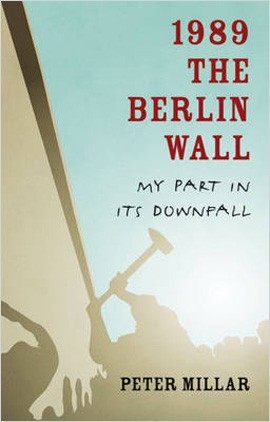 Peter Millar's new book can be read for many good reasons. It is, to quote the blurb, "an engaging, garrulous, bibulous memoir", "a journey into the heart of Cold War Europe" and "a bold, masterly examination" of the German psyche (The Sunday Times). It's a first rate reporter's story, a graphic eyewitness account of modern history in the making.
For Reuters colleagues, it is also a treasure trove of hilarious anecdotes from his years with the agency and a vivid rogues' gallery of characters who once served the Baron in London and elsewhere.
Millar was introduced to journalism, and Reuters, by sheer chance. A modern languages student at Oxford, he was spending a "year out" as an assistant teacher at a Paris lycée. As soon as the weather started warming up, and there was a school holiday, he set out to hitchhike to the south of France. The first motorist to pick him up was Terry Williams, then working in Reuters' Paris bureau.
Terry suggested a career in journalism. "'The thing about journalism,' he said with a grin, is that it's the worst job in the world.' And he paused before the punchline: 'But it's better than working.'"
Millar was hooked. He joined Reuters straight from Oxford, successfully answering the key question in a grilling by Chief News Editor Ian Macdowall - thanks to a tip given him by Terry Williams.
Millar goes on to describe the crucial stages in his Reuters initiation: losing his journalistic virginity in the Dave Goddard school of re-writes ("it's about making the buggers read it..."), surviving the transition from daytime subbing under the rule of the Four Horsemen to the overnight reign of the Princes of Darkness ("both called Jim") and finally graduating in the George Short theory of bar space management, as expounded by George in Mrs Moon's subterranean bar (qv).
And so on, from Fleet Street to Berlin and the later revelations of Millar's own secret Stasi files, not to mention intriguing references to an unnamed Reuters predecessor in East Berlin. Great entertainment - and education. Read it. ■