Library
In at the birth of a revolution, and the story of Castro's revenge
MICHAEL NELSON - Castro and Stockmaster: A Life in Reuters - Matador - 2011
---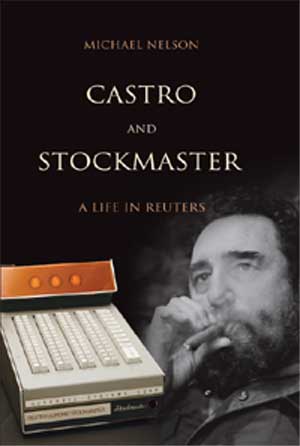 This is a book that started small and I have to declare an interest. I was there at the beginning when Michael Nelson told me he was embarking on the task of writing a short memoir. One of his children or grandchildren had said one day that they knew nothing about him or their family history. From the initial sketches grew this rather more ambitious book.
Nelson's grandfather was a solicitor in Londonderry, his father a carpenter in South London where he spent his early days living on a council estate with a wall to keep the hoi polloi away from the gentry up the road. This is probably the only time Nelson found himself on the wrong side of any wall. He was a clever young chap, scholarship material, who got a place at Magdalen College, Oxford. He joined Reuters practically from graduation and spent his working life with the firm.
Somehow he found time to marry Helga, of mixed Dutch and Romanian origins, produce three children and eventually three grandchildren. Along the way, he also managed to help steer Reuters into the great institution it remains to this day.
Nelson has been everywhere and done everything. He knows where the bodies are buried, and doesn't hesitate on occasions to turn them over for a good look. He's met all the movers and shakers in the media world, from Murdoch to Maxwell and well beyond. Do you know anyone else who's been kissed by Ted Turner (before he met Jane Fonda, of course)?
The book's title is a reminder that Nelson negotiated the acquisition of Stockmaster, foundation of Reuters' later prosperity, described by others as "the single most important commercial judgement in the agency's history". It ushered in a revolution in communications. Some of the old methods dreamed up in bureaus around the world that Nelson describes are simply uproarious but doubtless efficacious at the time.
Amusing stories abound. Nelson even recalls an ironic comment about journalism from Princess Diana when he met her at one of the services at St Bride's. The story of meeting Fidel Castro in Havana, an all night event when he was visiting to inaugurate the Reuter Monitor, is hilarious in itself. How many people have dared say to Castro that enough was enough and that he had to leave the great man because he had a plane to catch? You'll have to buy the book to find out what Castro's revenge was.
Like many Reuter wives, Helga had to cope with the vagaries of the service. Nelson pays a subtle compliment to the wives of all of us in similar circumstances. They had to make a home wherever they found themselves and be ready to move frequently. On the way through, the Nelsons managed to accumulate a large family; two boys and a girl, and later three grandchildren. Nelson's younger son married a lady from Mexico whose grandfather was Chinese. He works out that their three offspring are 3/8th Mexican, 1/8th Chinese, 1/8th Irish, 1/8th Welsh, 1/8th Dutch and 1/8th Romanian.
You'd have thought that with all his accomplishments, Nelson would sit back to enjoy the rewards of his work and live blissfully in his houses in the better parts of London and the Côte d'Azur. Not a bit of it. Nelson has already penned three well-acclaimed books since his alleged retirement and this is his fourth. I understand he's already thinking of a fifth to keep him busy.
By the way, Nelson is donating all profits from his latest oeuvre to the charity, SOS Children, Pakistan. It's in recognition of the signal service granted him by an anonymous taxi driver in Karachi, who courageously drove him to safety from the midst of a vicious anti-British riot during the Suez crisis in November 1956. It's salutary to think that otherwise Nelson's service to Reuters might have ended there and then.
---
JOHN JESSOP
The curious title of Michael Nelson's memoir, Castro and Stockmaster, is justified by the relative number of words devoted to its two titular topics. For the record, Stockmaster beats Castro by a short head.
That in itself is odd and, to this writer, disappointing.
I can understand why the author found a five-hour meeting with the Cuban dictator memorable. What I don't understand is why he thought it warranted nearly as much coverage as the introduction of the product that began the transformation of Reuters from a venerable loss-making news agency to a global information powerhouse - an initiative for which Nelson can claim sole credit. Odder still is his treatment of Monitor, a revolutionary product that carried the Nelson imprimatur to an even greater extent, one that paved the way for Reuters going public, an event which proved to be the saviour of the British newspaper industry. Monitor gets even shorter shrift than Stockmaster - less than half a page.
One explanation might be the author's modesty - except that he is happy, elsewhere in the book, to extract paeans of praise from other published authors (including this writer).
While I'm having a go, I'm also sorry that the book does not feature more prominently Nelson's recollections of his relations with his boss, Gerry Long, and his rival for the succession, Glen Renfrew. These three men - uncomfortable bedfellows in the executive suite, it is fair to say - led the company through its remarkable metamorphosis. How they managed the process, and each other, is something about which I would have loved to know more. Of these matters there is hardly a word.
Nelson's recollections about the development of products that changed forever the way financial markets work would undoubtedly have been of historic interest. As for his insights into the operating dynamic of Reuters' management troika, I have to own up to a certain retrospective prurience, though I happen to know that it is shared by many of the company's alumni.
I suppose Nelson could reasonably argue that his book is a memoir, not a history, and that the topics omitted properly belonged - and were duly reported - in the company-sponsored history of Reuters, The Power of News. Even so, the unique Nelson perspective on what were momentous times, both for Reuters and the markets which the company served, was eagerly awaited.
As a fellow author on the same subject, I am reluctant to criticize. But as much as I enjoyed reading Castro and Stockmaster, with its many amusing and sometimes touching anecdotes, I was left hungry for what was omitted.
Perhaps Nelson plans a second book. I hope so.
---
ALEX MCCALLUM
Mike Nelson was a rare bird at Reuters when the technology revolution began to eclipse traditional methods of transmitting news and financial market data - he had a great talent for management.
Nelson was a good reporter and editor, too, as a young correspondent in places like Bangkok and Singapore, but the century-old British news agency he joined in 1952 after graduating from Oxford University was not short of journalists. What Reuters needed were leaders with strategic vision and organization skills to manage the digital transformation, and it was Nelson - barely into his thirties - who was the first to demonstrate these capabilities, and then he continued to be the agency's pre-eminent executive over the next four decades.
Interestingly, the page design of his book is a reminder of pre-digital days, a clever move if intended. The 14 chapters divide up into self-contained segments, just like the short "takes" that would emerge from a noisy, stuttering Reuters teleprinter. A typical sequence: Fidel Castro Gives An Interview, Brass, Ted Turner, British Sang-Froid, Sky's The Limit, etc. It's a very useful approach, given the extremely varied life that Nelson led at home and abroad, enabling him to combine stories of his personal life with his business life, and keep the reader turning pages at a good pace.
On the personal side, Nelson doesn't have a privileged background as his Oxford degree might suggest. His parents (father Alfred was a World War I soldier) lived in a government housing project when he was born in 1929, and he remembers being caught in the WWII London blitz, and lucky to survive. As a teenager, he was a bright spark at grammar school, however, and went up to Oxford as a member of Magdalen College where famed historian AJP Taylor was one of his tutors.
Cuba's Castro of the book's title is one of the many sovereign leaders, dignitaries and personalities that Nelson encountered as a rising star at Reuters. The Stockmaster is the stock quote machine that gave Nelson his opening. Made by Ultronic Systems Corp, eventually a subsidiary of General Telephone & Electronics Corp (now GTE Corp), the Stockmaster desktop was crude by today's algorithmic-speed standards, but a dramatic breakthrough when launched in the mid-1960s. Nelson's masterstroke was to acquire the Stockmaster rights for Reuters outside North America.
After Stockmaster came Videomaster, another Ultronic invention with a full screen (instead of Stockmaster's three tiny circular windows) and the ability to display news as well as stock quotes. Nelson then decided that Reuters should develop its own quote system based on currencies, and the highly-successful Monitor service was launched in 1973. A decade or so later, Nelson's vision culminated in Reuters going public - it was the first dual London-New York Initial Public Offering (IPO) in history.
It would be a mistake to think that these breakthroughs transforming Reuters went smoothly. They didn't. Journalists being journalists, there was considerable resentment by many (including members of the board) that financial information had come to dominate Reuters' strategy and revenues. There was talk of splitting the agency into news and commercial. At one point, the IPO was in danger of being cancelled.
But Nelson, whose executive qualities included a cool head and preparedness to the nth degree, kept a strong and steady hand on the tiller. In this respect, he revealed a striking similarity to the news agency's founder, Paul Julius Reuter, who was an astute businessman and found initial success supplying stock quotations in an earlier technology revolution - abandoning carrier pigeons in favor of the electric telegraph.
When it came time for Nelson to retire, in 1989, he was only 60 years old. What he had accomplished, though, in 36 years, could have filled a full lifetime. But, of course, the technology revolution refused to stop. The Internet would soon be in full swing and, in 2008, Reuters would merge with the Thomson Corporation of Canada. In short, the media is still in the process of sorting itself out.
The publication of Nelson's book, therefore, comes at a good moment, because he was ahead of his time. This account of his life, his accomplishments, and his memories as the cornerstone leader at Reuters, is an important chronicle of how the digital revolution in news and financial market data got started. Just as Julius Reuter set him an example to follow, Mike Nelson gives some good pointers to his successors. Not only that, Nelson can still write a good story!
---
STEPHEN CLAYPOLE
Midway through Michael Nelson's memoir about his life in Reuters there is an anecdote involving Rupert Murdoch that might give pause to some of the participants at the Leveson Inquiry. Nelson, who played a leading role in the news agency's global development of electronic financial information, recalls explaining to his board why the company was not getting more revenue in the UK from its electronic foreign exchange marvel, Reuter Monitor: there was a great shortage of telephone lines which were needed to connect Reuter computers with potential clients. Some stockbrokers had bribed telephone engineers with the gift of cars to get lines installed, thereby delaying Reuters' access to them. Rupert Murdoch, who was then - in 1979 - a Reuters' board member, told Nelson: "If you decide to do that, don't get found out." Nelson writes crisply: "We did not change our policy that we did not give bribes."
In spite of the dodgy advice Nelson remains an admirer of Murdoch. I once accompanied Nelson to evening drinks at Murdoch's house on Misty Mountain in Los Angeles. The rapport between them was notable and the conversation fizzed with talk of satellite TV, the perceived incompetence of rival organisations and the digital future. Murdoch pops up quite a bit in Castro and Stockmaster. Over the years Nelson posed a number of questions to him. Among them: What do you think of banks? "Don't trust them." Why do you never sue for libel? "Not worth the hassle." What's your key to success? "I have a knack of seeing opportunities."
Nelson is kinder to Murdoch in his recollections than to the other great boardroom beast of his era, Robert Maxwell. Murdoch played a quiet and constructive role and always boosted morale by attending the post-board lunches with senior executives. "Maxwell … always arrived late with a noisy entry," writes Nelson. "He talked frequently and clearly had not read the papers under discussion." Maxwell never stayed for lunch, surprising given the constant refuelling his vast bulk needed. Cap'n Bob's discourtesy was taken amiss in the dining room at Reuters HQ, 85 Fleet Street, which always served the finest wines and the highest cuisine.
When I joined Reuters in 1988 to be Head of News at Visnews, the TV agency of which Nelson had fairly recently acquired control, I was told I wouldn't get anywhere in the company unless I knew my wine and cheese. Somehow I survived at table. Nelson was then in his final job at Reuters as general manager. I had been in two minds whether to join Visnews from BBC News, where my career had gone well, but Nelson, as chairman of the TV agency, spent an hour with me explaining how he saw the oncoming digital age. One of his critics accused him of "calculated ambiguity", but Nelson's vision of the digital future was clear-sighted. My decision to join Visnews became what the current North American management of Thomson Reuters would undoubtedly call "a no brainer".
The release of Reuters from its cash-starved history to market flotation and dominance as one of Europe's most successful corporations is well recorded in the book. Nelson was recruited as part of a team of bright young men and spent 36 years with the company. He was made the global head of the economic services at the age of 33 and became one of the main drivers in the development of computerised financial information that upended the world markets, led to the deregulation Big Bangs, the internet and the World Wide Web.
The title of this book relates to a night of conversation in Havana with Fidel Castro and to Nelson's acquisition of the non-American rights to Stockmaster, a virtual real-time system for recording market trades. It was the first of many services and products that Nelson shepherded to the global market and brought Reuters to its high point in the 1980s and 90s.
The value of Nelson's book is that it describes the personalities involved in the development of Reuters, the egomaniacs who held it together in the cash-starved years, the clever young men who pioneered the electronic products, the media moguls the author encountered as a hands-on executive, and the royals, presidents, prime ministers, revolutionaries and showbiz celebrities he met as a world traveller for a renowned corporate name.
Nelson writes with the economy you would expect of a Reuters man but contrives to ambush the reader with punchlines and quotable quotes from the great and the good and the scoundrels of the media world. He has also used an engaging Reuterish technique of turning all financial numbers into today's currency. He is remarkably honest about the early stock options issued to the Reuters executive committee, but I will leave the readers of his book to hate him and his former colleagues for the fortunes they made!
---
This review by Stephen Claypole, chairman of an international media consultancy and TV production company, was first published in the March 2012 issue of the British Journalism Review under the title Rupert and Reuters. ■