News
Maria Golovnina memorial - 'the world lost a bright light'
Wednesday 11 March 2015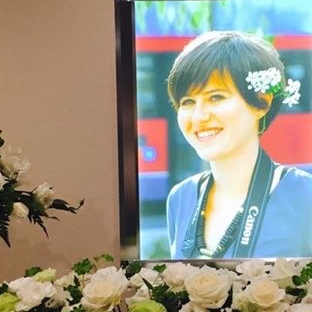 About 50 friends and colleagues braved a strong and cold downpour to gather at the Japan Press Club in central Tokyo on Monday to remember Islamabad bureau chief Maria Golovnina, who died at her office last month at the age of 34.
An autopsy conducted in Pakistan gave the cause of death as asphyxiation.
White flowers - a sign of grief in Japan - surrounded her memorial altar, with a few of her belongings including a scarf placed nearby. An album of pictures of her at the Russian School in Japan was also displayed.
"The heavens have opened," said one participant who worked with Golovnina in Asia. "It was a very sombre gathering."
The two-hour service gave an opportunity to share stories and favourite episodes of Golovnina, who began her career at Reuters in the Tokyo bureau in 2001. A few journalists from the Foreign Correspondent Club of Japan, where her father Vasily Golovnin is well known, also attended, and one of the waiters who remembered her as a small child walking the halls of the club came to pay his respects.
Reuters photographer Thomas Peter, who knew Golovnina from his days in the Moscow bureau, and Tokyo correspondent Shiho Tanaka, a fellow graduate trainee from the year of 2001, read out dozens of messages from around the world.
Most of them recalled Golovnina as a happy, energetic and touching woman who dedicated her life to journalism and enjoyed her life.
Her father spoke at length about his daughter. He said he had a long conversation with her just days before her death.
He raised his glass saying we should go on living and smile in her memory, as she would have wanted us to.
In the hall, where drinks and food were laid out with her photos and videos, Golovnina's favourite music by Erik Satie, Mozart and Handel was played as her friends and colleagues paid tribute and bade their final farewells.
"Dear Maria, so sad that the world lost a bright light," a former colleague wrote in a book of condolences.
---
PHOTO by Thomas Peter/Reuters ■