News
Obituary: Peter Jackson
Friday 16 December 2016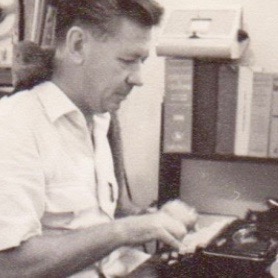 Peter Jackson (photo) achieved distinction in two careers - as a Reuters correspondent and as a leading wildlife conservationist.
Jackson, who died aged 90 in London on 8 December, was Reuters' chief correspondent in New Delhi from 1954 to 1960 and 1962 to 1970, covering most of independent India's early decades, John Rogers writes. Between his Delhi postings, he had a two-year stint in Rome.
He had joined the news agency after National Service with the Royal Navy and a history degree at Cambridge.
His first posting, as correspondent in Pakistan, provided the setting for one of Reuters' great romances and his biggest scoop. Jackson was assigned to cover the May 1953 first ascent of Mount Everest, and worked closely on organising his expedition and on the story with Delhi correspondent Adrienne Farrell. They married the next year.
The Times had exclusive access to the first climbers to reach the summit of the world's highest peak, Edmund Hillary and Sherpa Tenzing Norgay, and the newspaper's correspondent, James (now Jan) Morris, was in touch with them by walkie-talkie radio. He broke the news of the ascent in a coded message to The Times.
But it was Jackson who got the first interviews and photographs of Hillary and Norgay.
He had trekked up with porters and an interpreter-aide to nearly 5,500 metres (18,000 feet) on the Khumbu Glacier on his way to the expedition's base camp. With Morris ensconced in the base camp, Jackson made his base at Thyangboche monastery, in the shadow of the world's highest mountain and on the route for messengers from the base camp.
After a frustrating two-week wait, a messenger raced through the monastery one day with an urgent despatch.
The Baron recalled the scoop on the 60th anniversary:
Jackson discovered the runner had been offered 200 rupees to get to Kathmandu in six days and he suspected the mountain may have been climbed. He trekked down to the small town of Namche Bazar where an Indian police officer manning communications let him see the message. It was from the expedition leader, Colonel John Hunt. "It said, 'snow conditions bad, advance base abandoned, yesterday'," Jackson recalled. "The policeman said I could send a message as well but I didn't. I knew it must be wrong as I thought they had got to the top."
Jackson's hunch had been correct - the message had been sent out in a pre-arranged code. "Snow conditions bad" meant Hillary, and "advance base abandoned" meant Tenzing…
Jackson waited for the climbers to come down to the monastery and was thrilled to be able to meet them. There were no other journalists in this remote place, and it was there he interviewed them and took the iconic picture of Hillary and Tenzing smiling at each other. "Hillary said to me, 'I feel very happy, I feel bloody good'. I changed it to 'damn good' as they wouldn't have printed it otherwise. Tenzing said he was happy but not tired... and having attempted the Everest climb seven times, he said he wouldn't do it again."
Jackson spent the night with the team and then followed them down to Kathmandu, taking more pictures. The expedition included an official photographer, but his work was published after the team got home. Jackson's work was splashed first across the Sunday Express and then newspapers all over the world… The Times paid Reuters the tribute of devoting half a column to the interviews.
Jackson's Everest expedition had a profound impact on his life. Not only did he and Farrell get married, becoming Reuters' team in New Delhi, but also it nurtured a life-long interest in the Himalayas, Nepal and mountaineering.
The Jacksons had a joint international scoop in 1959 with exclusive reports about the escape of the Dalai Lama from Chinese-occupied Tibet on horseback in a dust-storm and his arrival in India. Peter and Adrienne had met the Tibetan Buddhist leader three years earlier when he visited India for celebrations of the 2,500th anniversary of the Buddha's birth.
On 18 March 1959, an Indian journalist with senior government contacts called the Jacksons to his house. "He told us there had been riots in Lhasa and that the Dalai Lama had escaped and was heading for the Indian frontier. We broke the news in a Reuters report," Jackson wrote later.
Thanks to clever deduction from a conversation with a Tibetan contact, Peter and Adrienne scored again with news - a day before Prime Minister Jawaharlal Nehru announced it in parliament - that the Dalai Lama and his party had reached India after a trek of nearly two weeks and would be granted political asylum.
"No other agencies had the news, nor had the Indian press… Excited members asked why Reuters had the news, but the Indian press had not been told. Nehru smiled and said the Reuters report had been 'an intelligent guess'."
Peter Jackson's long career in India shaped other lasting interests that would dominate his life, a love of wildlife - both birds and animals - and skill as a photographer.
Before the day's work, he would go out in the early morning from the Reuters office-cum-home on Prithviraj Road in New Delhi with his Hasselblad camera to take pictures of birds from hides around the city. One of his discoveries was an old jheel (lake) near Delhi that attracted large numbers of migratory birds. As secretary of the Delhi Birdwatching Society, he urged Prime Minister Indira Gandhi in 1970 to declare it a bird sanctuary. The Sultanpur Bird Reserve was established two years later and was upgraded to a National Park in 1989.
Another favourite spot was the Delhi rubbish dump, which attracted considerable birdlife.
Jackson's interest in India's endangered tigers developed throughout his years in the country. The declining tiger population was a dominant issue at the International Union for the Conservation of Nature (IUCN) assembly in Delhi in 1969, and this prompted closer involvement in the issue.
After leaving India and Reuters in 1970, the Jacksons moved to London and then to Switzerland, home of the IUCN and the World Wildlife Fund (WWF). While Adrienne worked in Reuters' Geneva bureau, Peter was the WWF's Director of Information for nine years. He edited its yearbook, worked on tiger conservation and was a driving force behind India's Project Tiger, a government-backed scheme launched in 1973 to establish reserves.
One of the world's leading tiger experts, he became Chair of the Species Survival Commission's Cat Specialist Group in 1983 - a great honour for a non-scientist - and held the post for 17 years.
A newly identified sub-species, Malayan Tiger, was named panthera tigris jacksoni in his honour in 2004.
The Jacksons returned to London in 2003. Adrienne died in January 2015. Peter's and Adrienne's three daughters - Paddy, Susan and Christina - and son David survive them.
---
PHOTO: Peter Jackson, with mongoose Rikki on his shoulder, working in the Reuters office in New Delhi in 1969. (Photograph by John Rogers)
---