News
Thomson Reuters posts higher Q4 net income
Thursday 9 February 2017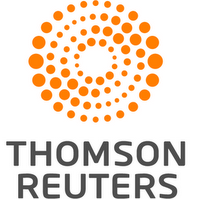 Thomson Reuters reported a higher quarterly net profit, reflecting a gain on the sale of its intellectual property and science business, and said it expects revenue growth this year in the low single digits.
Net earnings were $2.24 billion or $3.03 per share, compared with $417 million or 53 cents a year earlier. Excluding charges and earnings from discontinued operations, the group earned 60 cents per share, two cents better than the analyst estimate of 58 cents.
Revenue for the quarter at $2.86 billion was slightly lower than the consensus Wall Street estimate of $2.89 billion.
In the Reuters News division, sales rose five per cent in the fourth quarter to $77 million.
The board of directors approved an additional $1 billion share buyback programme and a two cents per share annualised increase in the dividend to $1.38.
Over the whole year, currency weighed on revenue, which dipped one per cent.
James Smith, president and chief executive officer, said in a statement accompanying the figures: "2016 was a year of continued progress. I am encouraged by the momentum and the foundation we have built heading into 2017, and we are well positioned to deliver on our commitments.
"Today's results reflect the clear progress we are making against the objectives we set out three years ago. 2017 is the year we work to accelerate revenue growth. In these uncertain times, customers lean more heavily on trusted partners like Thomson Reuters to help navigate a changing environment - and we are ready to help them." ■
SOURCE