News
Reuters chief: 'We're in this for as long as it takes to get them free'
Saturday 23 December 2017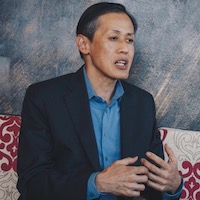 A senior Reuters executive who visited Myanmar seeking the release of two reporters held incommunicado said they were just doing their job and their arrest was an outrage.
Reg Chua (photo), Reuters chief operating officer, said he visited Yangon to try to secure the freedom of reporters Wa Lone, 31, and Kyaw Soe Oo, 27, who were arrested on 12 December "and we did not accomplish that".
"But I came because I needed to see the family, I needed to meet the bureau, I needed to talk to lawyers, I needed to talk to the press, I needed to talk to members of civil society, to analysts, to diplomats - and that, I've accomplished," he told Frontier Myanmar, an English-language weekly magazine. "I've come and I've got an understanding of the situation and as I say I wish there was a better, more optimistic outcome to this but of course we're in this for as long as it takes to get them free."
Chua said he had been allowed to bring supplies and give them to police who said they would take them to the two men.
"But in terms of other, real contact, we've had very little contact, we've had no access to the two of them, the families have no access to the two of them, we haven't really had any formal communications about what charges might be filed against them, we don't know their condition, we don't know their whereabouts."
Asked how concerned he was for their safety, Chua said: "Our concerns are that we have very little information to go on. I simply have no idea - are they well, are they not well, are they ill? If you speak to their wives, they'll say, they're distraught - they haven't had any information. Imagine being away from your family for a week and just having no sense of where they are. We don't have any specific concerns but of course we're concerned about their wellbeing."
He said Reuters did not think they had done anything wrong. "We think they're innocent, they're just doing their job and for them to be arrested to begin with is an outrage and they should be released."
The two journalists had worked on Reuters coverage of a crisis in the western state of Rakhine, where an estimated 655,000 Rohingya Muslims have fled from a fierce military crackdown on militants.
A senior police officer said this week they had appeared and court and been remanded in custody. ■
SOURCE