News
Bill Clinton: Release the Reuters two in Myanmar now
Tuesday 9 January 2018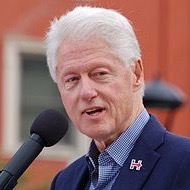 Former US president Bill Clinton (photo) has joined mounting calls for the immediate release of two Reuters journalists detained in Myanmar.
"A free press is critical to a free society - the detention of journalists anywhere is unacceptable. The Reuters journalists being held in Myanmar should be released immediately," he said in a Twitter post.
Reporters Wa Lone, 31, and Kyaw Soe Oo, 27, were detained on 12 December. They are due to make their second appearance in court in the main city of Yangon on Wednesday.
The two had worked on Reuters coverage of a crisis in the western state of Rakhine, where an estimated 655,000 Rohingya Muslims have fled from a military crackdown that followed militant attacks on security forces.
Myanmar's Ministry of Information has cited police as saying the reporters were "arrested for possessing important and secret government documents related to Rakhine State and security forces". It said they had "illegally acquired information with the intention to share it with foreign media".
The Official Secrets Act dates back to 1923 when Myanmar, then known as Burma, was a province of British India. It carries a maximum prison sentence of 14 years.
Government officials from the United States, Britain and Canada, as well as top UN officials and the Committee to Protect Journalists have called for the release of the reporters.
Reuters president and editor-in-chief Stephen Adler has called for their immediate release.
"As they near their hearing date, it remains entirely clear that they are innocent of any wrongdoing," he said in a statement. ■
SOURCE