News
Former Reuters editor 'on leave' at Newsweek after sexual harassment allegations surface
Monday 29 January 2018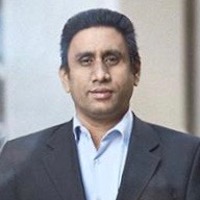 Newsweek Media Group said its chief content officer Dayan Candappa (photo) is taking an immediate leave of absence following a published report that Reuters dismissed him from his previous job after a junior colleague alleged sexual harassment.
Reporting the development, Newsweek said the BuzzFeed News website reported on Monday that Reuters had pulled Candappa out of his job as Americas editor after a reporter complained about his conduct. Newsweek group hired Candappa a few months later, although company leaders, including then editor-in-chief Jim Impoco [a former senior editor at Reuters], were informed by Newsweek staff who previously worked at Reuters about the circumstances of Candappa's departure from Reuters, BuzzFeed said.
A representative for Candappa declined to comment, Newsweek said.
"Newsweek Media Group conducts rigorous pre-employment checks on its employees," the company said in a statement. "These checks were completed when we hired Mr. Candappa to the role of global editor-in-chief of the International Business Times in 2016. Our company has a zero tolerance policy for any form of harassment. We will treat any report seriously and if necessary take appropriate action."
Newsweek announced that it would contract with an outside party to conduct an independent investigation.
"Based on allegations raised today on BuzzFeed News, Newsweek Media Group has put chief content officer Dayan Candappa on leave while the company conducts an independent investigation," it said in a statement.
A Reuters spokesperson declined to comment on the case, saying it does not discuss individual employment matters. "We have a zero-tolerance policy toward harassment and respond quickly and decisively to complaints," said Abbe Serphos. "As a general rule, we work to protect the privacy of an employee who complains of harassment if that is the employee's preference."
BuzzFeed's report included detailed allegations of harassment against Candappa filed with Reuters human resources by a female journalist on 2 February 2016. It said that when she travelled for work Candappa arranged to be in the same cities she visited and pressed her to meet him for drinks or dinner. She said she complied out of fear for losing her job, BuzzFeed reported.
Candappa joined Reuters as a stringer in Sri Lanka in 2000. He left abruptly on 19 February 2016, having been Americas editor since December 2013 after a series of postings and promotions.
Editor-in-chief Stephen Adler, in an announcement to editorial staff, gave no reason for Candappa's sudden departure. He said Candappa was leaving the organisation "to pursue opportunities outside Thomson Reuters, effective immediately". ■
SOURCE