News
Director quits Thomson Reuters board
Wednesday 31 January 2018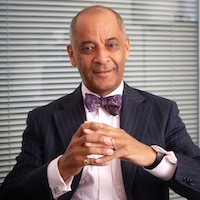 Sir Kenneth Olisa (photo), 66, a director of Reuters since 2004 and of Thomson Reuters since its formation in 2008, has resigned.
A company announcement from Toronto said he resigned from the board of directors on Tuesday. It gave no reason.
Olisa resigned on the day of a Thomson Reuters board meeting at which directors agreed to sell a majority stake in the group's financial and risk business for $17 billion to US private equity group Blackstone.
"Thomson Reuters has greatly benefited from Sir Kenneth's contributions, drawing from his decades of success and innovation in technology and banking. I thank him greatly for his dedication, guidance, and service," said David Thomson, chairman.
"Sir Kenneth has served the Board of Directors for over a decade. I thank him for his contributions, and wish him success in his future endeavors," said James Smith, president and chief executive officer.
Olisa served on the board's audit committee. Following his departure, the Thomson Reuters board consists of 11 directors.
---
SOURCE