News
Banks line up for a piece of the F&R action
Thursday 1 March 2018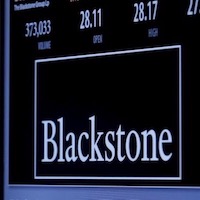 More banks are lining up to back the sale of a majority stake in the terminals and data business of Thomson Reuters in the biggest buyout financing since the 2008 global financial crisis.
Blackstone, the world's largest private equity firm, is buying 55 per cent of the financial and risk unit (F&R).
JPMorgan Chase, Bank of America Merrill Lynch and Citigroup are leading loan and bond financing for the deal, with Wells Fargo, Morgan Stanley and Goldman Sachs among 21 other banks also underwriting it. The acquisition is valued at about $20 billion including debt.
F&R - the terminals and data business acquired when the Thomson organisation bought Reuters ten years ago - provides financial and trading information, data and analytics. ■
SOURCE