News
Nazanin: Two years in Iran jail and still no sign of release
Tuesday 3 April 2018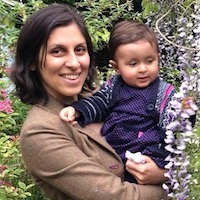 Nazanin Zaghari-Ratcliffe (photo), the Thomson Reuters Foundation manager jailed in Iran, marked two years since her detention with still no indication when she may be freed.
Her husband Richard Ratcliffe called on British prime minister Theresa May to intervene after the failure of efforts by foreign secretary Boris Johnson.
"Nazanin is still in prison, so in simple terms, the foreign secretary has not done enough," he said at an event in London to mark the second anniversary of her arrest at Tehran airport.
"The prime minister is more important, and just as we were pushing to meet the foreign secretary, at some point, if that is not enough, we have to push up another level and that's the prime minister."
He said he still wanted Johnson to be clear about the technicalities of what he thinks his wife's rights are.
"Before Christmas he vowed to leave no stone unturned, which was a political commitment, but legally, they say it is being treated as a consular case. Clearly this isn't a consular case where the Government has no obligations."
Zaghari-Ratcliffe and their daughter Gabriella, now three, were prevented from leaving Iran after a holiday.
She was subsequently jailed for five years, accused of seeking to overthrow the Iranian regime.
Gabriella is being looked after by her grandparents in Tehran. ■
SOURCE