News
Myanmar policeman who testified Reuters reporters were framed is jailed
Sunday 29 April 2018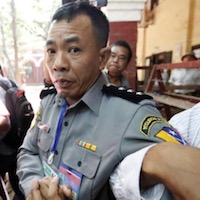 A police officer who testified that police framed two Reuters reporters in Myanmar has been sentenced to an undisclosed prison term, a police spokesman told Reuters on Sunday.
Captain Moe Yan Naing (photo) was jailed for violating Myanmar's Police Disciplinary Act.
He told a court on 20 April that a senior officer had ordered police to "trap" one of the two journalists arrested in December. He said officers had been told to meet reporter Wa Lone at a restaurant in Yangon and give him "secret documents".
During that hearing, Moe Yan Naing told the court he had been under arrest since the night of 12 December, the date the Reuters reporters were arrested, without access to his family. He said he had been accused of violating the Police Disciplinary Act.
The court in Yangon has been holding hearings since January to decide whether Wa Lone, 32, and his Reuters colleague Kyaw Soe Oo, 28, will be charged under the colonial-era Official Secrets Act, which carries a maximum penalty of 14 years in prison.
At the time of their arrest, the reporters had been working on an investigation into the killing of 10 Rohingya Muslim men and boys in a village in western Myanmar's Rakhine state. The killings took place during an army crackdown that United Nations agencies say has sent nearly 700,000 people fleeing to Bangladesh.
Seven Myanmar soldiers had been sentenced to "10 years in prison with hard labour in a remote area" for participating in the massacre, the Myanmar military said in April.
On Sunday, police spokesman Colonel Myo Thu Soe told Reuters Moe Yan Naing had been punished "according to police disciplinary act," adding that his "case has been processed by a police court, finalised and he was punished and he has been sent to prison to serve the punishment."
"The punishment is a prison sentence and for the rest, please find out yourself," Myo Thu Soe told a Reuters reporter.
Moe Yan Naing's wife Tu Tu and her children were evicted from their home in police housing in Myanmar's capital Naypyitaw on 21 April - less than 24 hours after her husband's testimony. ■
SOURCE