News
Obituary: Joanna Roughton
Wednesday 11 July 2018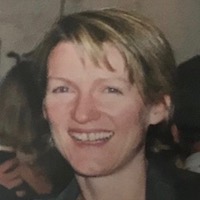 Joanna Roughton (photo), former head of Reuters TV for Asia, has died from cancer at the age of 55.
She had been diagnosed with cancer five years ago and was told her illness was terminal earlier this year. She died on 6 July.
Rodney Pinder writes: Jo Roughton was Reuters Asia TV editor during the Hong Kong handover to China and moved with us to Singapore before leaving to become Sky foreign editor. Jo was a highly efficient, accomplished TV operator and a fun colleague and companion in and out of the office with her trademark gap-toothed grin and ready laughter. She left the news business to become a wonderful Mum to six children with Sky News presenter Colin Brazier. Her untimely death takes away one of the really good people. She will be sorely missed by all who knew her.
The funeral will be at noon on 3 August at St John the Baptist Roman Catholic Church, Andover, Hampshire. Dress code: Blacks. ■