News
Refinitiv owner Blackstone switches status
Thursday 18 April 2019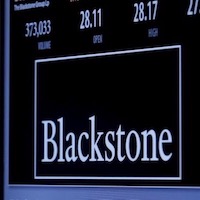 Blackstone, majority owner of Refinitiv, is changing its structure from a partnership to a corporation.
The world's largest private equity firm with $512 billion in assets under management has been a publicly traded partnership since 2007. It said on Thursday it would convert in July from a status that has shielded much of its income from corporate taxation after concluding tax cuts meant the complex structure was no longer worth the trouble.
Stephen Schwarzman, Blackstone's billionaire founder, said he hoped the move would lift Blackstone's share price by attracting investors who have so far been deterred by the need to file lengthy tax returns if they hold even a single unit of the buyout group's stock.
"We believe the decision to convert will make it significantly easier for both domestic and international investors to own our stock and should drive greater value for all of our shareholders over time," Schwarzman said.
Shares in Blackstone surged 9.5 per cent in pre-market New York trading in reaction to the news.
Blackstone also reported first quarter results. It raised $126 billion over the past year, a record for the firm.
"We keep inventing new ways to invest, new things to invest in, new place to invest," Schwarzman said. "Our private equity business, our fund will have the largest fund in the world, and that enables us to do deals that other firms could never think about."
Last year Blackstone led a $20 billion private equity investment in 55 per cent of Thomson Reuters' financial and risk business, now operating as Refinitiv.
VIDEO ■
SOURCE