News
Thomson Reuters wants to spend more on acquisitions
Thursday 31 October 2019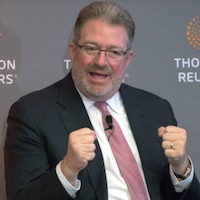 Reuters news agency owner Thomson Reuters reported higher-than-expected quarterly operating profit on Thursday and said it would raise its dividend payout ratio and buy back more shares.
Chief Executive Officer James Smith (photo) said the company had spent just over half of the $2 billion it had set aside for acquisitions to expand its main divisions and would love to spend the rest.
Operating profit rose to $262 million, or 27 cents a share, in the third quarter, from $173 million or 12 cents a share a year ago. Analysts, on average, expected profit of 19 cents a share.
The group, controlled by Canada's Thomson family, affirmed its 2019 and 2020 sales and earnings outlook, which it had raised in August. It said it intended to increase its dividend payout ratio to 50 per cent to 60 per cent of free cash flow from 40 per cent to 50 per cent previously.
It also said the board had approved a new share buyback scheme worth $200 million of shares both this year and next, having already bought $288 million of shares in the first nine months of 2019.
Revenue rose 10 per cent to $1.41 billion in the quarter, slightly below estimates. Organic sales growth was four per cent, matching the pace in the second quarter.
Single-digit sales increases were posted in each of its three largest divisions, legal professionals, corporates and tax & accounting professionals.
Reuters News revenues increased 121 per cent to $155 million due to the inclusion of revenue from a 30-year agreement for Reuters to supply news and editorial content to Refinitiv, which began in the fourth quarter of 2018. Reuters organic revenues rose three per cent.
The increase in operating profit reflected the revaluation of warrants the company holds in Refinitiv, which the London Stock Exchange has agreed to buy.
The group sold a majority stake in its financial data business last year to a private equity consortium led by Blackstone. The LSE agreed on 1 August to buy that business, now called Refinitiv, for $27 billion in an all-share deal.
Thomson Reuters will hold a 15 per cent stake in the LSE on completion of the Refinitiv deal, which is expected in the second half of 2020. A Thomson Reuters representative will also sit on the LSE board.
Under the agreement, Thomson Reuters can sell a third of its shares in each of the third and fourth years after completion, and the rest thereafter.
Thomson Reuters has set aside $2 billion of the $17 billion proceeds from the Blackstone deal for purchases to help expand its legal, tax & accounting and corporates businesses.
"We're about just over half of the $2 billion that we have set aside for acquisitions," Smith said in an interview with Reuters. "I'd love to find a way to spend the other half."
During the quarter, the company acquired events company FC Business Intelligence, which hosts exhibitions and conferences in sectors including pharmaceuticals, energy and transport, to help promote its Reuters News brand. ■
SOURCE