News
Obituary: Khaled al-Ramahi
Monday 2 December 2019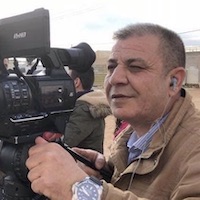 Khaled al-Ramahi (photo), a Reuters television veteran who won the respect and love of colleagues across the Middle East, died suddenly in Jordan on Friday.
He will be sorely missed by countless friends who admired him for the courage, professionalism and irrepressible energy he brought to every assignment, and who were heartened by Khaled's warmth and humour which lit up even the darkest chapters of three decades reporting from across the Arab world.
A hugely reassuring presence for any journalist arriving on a dangerous assignment, Khaled would generously share advice based on experience he built up over a career which started in Amman in 1989, when he joined Reuters as a fixer. With almost hyper-active determination, he quickly became an accomplished camera operator and an indispensable part of Reuters coverage of Saddam Hussein's Iraq. It was a story to which he would return again and again, from the Gulf War of 1990-91 to the sanctions and UN weapons inspection crises which followed, the 2003 US invasion and ensuing bloodshed all the way through to the emergence and defeat of Islamic State in Mosul in 2017.
Khaled was appointed senior producer for Jordan, Iraq, Syria and Lebanon in 2003, but he played a vital role across the region, managing several Reuters reporting operations during the 2011 Arab uprisings. As new and younger television journalists joined Reuters, Khaled mentored the next generation even as he continued to lead by example himself. A street-wise operator who always seemed one step ahead of the competition, he was also a great source of insight for text colleagues.
Khaled, who was 57, died after collapsing in Amman on Friday. He was a grandfather, husband to Rowayda, and father to Mohamed, Faris and Yasmeen. Tributes from colleagues reflect the enormous impact he made and the loss that everyone feels without Khaled's friendship, wisdom and deep, raucous laughter which never failed to lift the mood.
Reuters Middle East editor Samia Nakhoul, who was rescued by Khaled when a US tank shell hit the Reuters office in the Palestine Hotel in Baghdad in April 2003, said he was "incredibly loved, respected and admired by his colleagues and friends at Reuters for his sheer passion, enduring commitment and outstanding work. From one war to another, Khaled would always jump on the first plane and hit the ground running, setting the logistics for TV and text and thinking of every minute detail needed to cover a conflict - from satellite dishes and phones, to stocking up on water and food. He was the dynamo of any operation. If you wanted to win a story you had to have Khaled leading the team. Khaled achieved all of this with remarkable modesty and humour.
"The first conflict that marked the beginning of our friendship was the 1990 Iraqi invasion of Kuwait, when we reported from the Iraqi-Jordanian border where waves of refugees flooded into Jordan. We then covered the 1991 Gulf War, and subsequently often teamed up in war zones. But as long as I live I will never forget how Khaled pulled me off the balcony of the Baghdad hotel with other wounded colleagues when a US tank shell hit our TV offices. He rushed us with the driver to hospitals while Baghdad was still under intense bombardment. I can still hear his voice and that of chief TV producer Ahmed Self calling for the hotel to turn the generator on to evacuate us from the 15th floor to hospital.
"He was part of the team led by Ahmed that won Reuters best story of the year for his coverage of the invasion. His commitment to the story was infectious and a big factor in Reuters success. It is a bitter irony that having survived Baghdad, Mosul, Libya, Somalia and other perilous conflicts, he died of a stroke in his home country Jordan. If I could sum up Khaled in a few words, it would be charisma, courage, energy, integrity and charm.
"In addition to his devotion to his work, Khaled cherished his family, his friends, his mother and grandchildren. Although much too short, his life was lived to the full. He was a gifted, collaborative and caring person who will be greatly missed by many, but he will never be forgotten by those who were lucky to have known him."
Alastair Macdonald, former Baghdad and Jerusalem bureau chief who worked with Khaled for a decade around the Middle East, said he grew to count on him "as a rock of sanity and dependability, a fount of wise advice for outsiders like myself. He seemed to me all at once symphony conductor, field marshal and the smartest guy in the bazaar in the way he could steer his people through tough times and always get the best out of them. Yet he was never far from that conspiratorial smile which said you should never take life too seriously.
"Across the region, Khaled always, somehow, seemed to know how, or who, to fix a problem. I once got myself in a jam, stuck in no man's land on the Allenby Bridge border crossing from the Israeli-occupied West Bank. Five minutes after my despairing phone call to Khaled, stony-faced Jordanian frontier guards were transformed into my personal red-carpet welcoming party. He never would tell me how he did. When I asked, the answer was just the famous Khaled smile."
Luke Baker, who worked with Khaled through Iraq's desperately violent years after 2003, said his warmth and humour always reassured correspondents returning to Baghdad after a short break. "A deep, smokey-voiced 'Ahlan habibi', a hug and a welcoming smile, friendliness and cleverness dancing in his eyes, the immediate offer of a coffee and a cigarette. Khaled had the ability to be completely on top of everything that was going on while being totally relaxed at the same time - making sure the TV crews were all where they needed to be and feed times were being met while simultaneously offering you a seat, finding his lighter, splitting sunflower seeds and asking after your family.
"He was a great mentor and judicious at offering advice and guidance to younger journalists, and was wonderful at making you feel like you were in on the game with the occasional conspiratorial wink." With the network TV producers anxious to know what was going on, Khaled was 'gracious, yet never gave anything away'.
"I wish Khaled al-Ramahi could see how many tributes have poured in for him," said Middle East special correspondent Michael Georgy, who shared many adventures with Khaled. "He could always talk his way into getting great stories and talk his way out when his life was literally on the line." Once, when Jordanian militant leader Abu Musab al-Zarqawi's campaign of suicide bombings was at its height in Iraq, Khaled was stopped at a checkpoint. "He was immediately held by gunmen who accused him of being one of Zarqawi's men because of his Jordanian passport. Their leader stepped into a room where he was being held for hours and said 'Why didn't you behead him and throw him in the river?' Khaled was terrified, especially when he then heard an old man walking down the street yelling 'Where is the Jordanian traitor?' Khaled, naturally, talked his way back to his car. 'I didn't say a word for three hours in the car and had a whole bottle of whiskey when I returned to the bureau in Baghdad,' he later recalled. He turned a near-death experience into comedy - it was one of his many forms of generosity. Every time I met him on assignment I would beg him to tell that story again. It made us laugh for many years. RIP Khaled."
Friends, family and colleagues came from near and far to bid Khaled farewell on Sunday at a cemetery outside Amman. From Asia, the Middle East and Europe, Reuters journalists who had not met for decades embraced, wept, and shared anecdotes. Beirut-based senior TV produce Ayat Basma said he had been a mentor, friend and brother for colleagues from Bagdad to London. "Among the many things that will be hard to forget are his voice - which can only be described as raspy even if he wouldn't like that description - his lively hand gestures while almost always holding a cigarette, his wicked laugh, love of a good drink and a good meal, generosity, and most of all his humour. Even in the most difficult of times." ■