News
Pandemic: All but 2% of Thomson Reuters staff working from home, costs to be cut
Tuesday 5 May 2020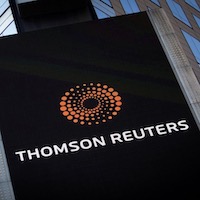 Reuters owner Thomson Reuters reported higher quarterly sales and operating profit that fell slightly short of estimates and cut its full-year sales outlook, citing unprecedented disruption in the global economy.
It posted a two per cent rise in revenue to $1.52 billion, helped by gains in its legal and corporates businesses, and said operating profit rose six per cent to $290 million. Adjusted earnings of 48 cents a share were one cent below Wall Street expectations.
Total revenue growth this year was forecast at one to two per cent, down from a February estimate of 4.5 per cent to 5.5 per cent. Thomson Reuters said it would be cutting costs.
"As we generate most of our revenues from selling information and software solutions electronically and on a subscription basis, our businesses have historically been resilient over time, but they are not immune to the recent downturn in the global economy," Steve Hasker, chief executive since March, said in statement.
"Given the challenges we are all facing from the COVID-19 pandemic, our main priority remains the health and safety of all of our employees. I want to thank them for how they have stepped up to support our customers around the globe as they help businesses, communities and economies do what they can to move forward."
The company, controlled by Canada's Thomson family, said it was targeting a $100 million cost reduction programme to address the changed business environment and noted it has no debt due until 2023. It said it has enough liquidity for the next 12 months and does not expect to change its dividend payout.
"We don't plan any layoffs at this point in time," Hasker said in an interview with Reuters. "We are focused on investing in our business."
The coronavirus pandemic has brought major economies to a halt, pushed millions into unemployment as businesses shutter, and emptied trading floors around the world as companies scrambled to slow its spread among their workers.
Thomson Reuters executives said they aimed to cut discretionary expenses, while approximately 98 per cent of the company's 24,000 employees have been working remotely during the outbreak.
Reuters journalists are delivering outstanding global reporting on COVID-19, Thomson Reuters said.
Reuters News revenues were flat at $155 million, while organic revenues fell four per cent due to COVID-19 related cancellations of events in the Reuters Events business acquired in October 2019, the company said.
Reuters News full-year 2020 revenues are expected to decline between four per cent and six per cent.
In parts of Asia, a gradual phased return to work in the office is beginning. Staff returning to offices and essential employees around the world who are not working from home, such as journalists and those running the company's print facilities, follow social distancing and cleaning protocols.
The company has also expanded its health and welfare programmes to help employees during the crisis and has transitioned recruiting, onboarding and training of new employees to a virtual experience.
Thomson Reuters created a dedicated site for its employees on the company intranet to serve as a focal point for COVID-19 related information, including updated company policies and Q&As, in multiple languages.
Technology has allowed employees to continue to collaborate with customers and among themselves regardless of where they are in the world, with relatively little disruption.
Thomson Reuters' approximately 500,000 customers are largely composed of legal and tax professionals in corporations and professional services firms. The US Federal Government is the group's largest customer and comprised approximately two per cent of 2019 revenues. ■
SOURCE

Thomson Reuters