News
Obituary: Chris Cramer
Sunday 17 January 2021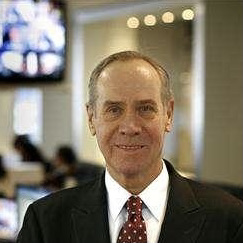 Chris Cramer (photo), who had global editorial roles at Reuters during a long career as a television journalist, has died aged 73.
He joined Reuters in 2008 as global editor, multi-media, and later became editor at large, overseeing financial programming, global online operations, multimedia innovation and strategy, before stepping down in 2013.
Previously he led CNN International for 11 years where he was a passionate and forthright leader and an early champion of recognising the impact of post-traumatic stress disorder (PTSD) among journalists.
It was a passion born of his own experience as a hostage during the Iranian Embassy siege in London in 1980, CNN's Michael Holmes said. Cramer had been in the embassy getting a visa when gunmen opposed to Ayatollah Khomeini stormed in. After 24 hours as a hostage, he told the gunmen he was unwell, and was released, leaving to provide crucial information to authorities about the embassy layout, the number of gunmen and hostages.
He later realised the experience had traumatised him in ways he did not comprehend at the time, and, as his career as a news boss took off, he remembered the impact, long before PTSD became a well-known term for soldiers and others.
As the world became more dangerous for journalists, he was a pioneer and innovator in field safety, leading the development of guidelines and practices now widely adopted across the industry.
Before joining CNN in 1996, Cramer spent 25 years at the BBC where he was its first head of newsgathering.
He was also president and a founding member of the International News Safety Institute, a global organisation dedicated to journalists' safety.
Former Reuters journalist Mark Thompson, now a managing editor at CNN, wrote on Facebook: "I was blessed to know Chris as a dear colleague, boss, mentor and friend. An inspiration. He made time for people. A generous host with a razor-sharp sense of humour. I'll never forget one long-haul flight we shared, I didn't stop laughing from takeoff to landing… I'll be staring into space a little bit longer today than usual." ■