News
Obituary: Daniel Edinger
Sunday 31 January 2021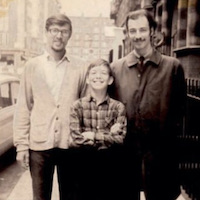 Daniel Edinger, a summertime replacement sub-editor at the London French Desk in the early and mid-1960s, died in Paris on 24 January, aged 76.
After his stints at French Desk, he moved to Paris and studied at the Institut des Hautes Etudes Cinématographiques (IDHEC), France's foremost cinema school. Before becoming a director himself, employed mainly by French television, he was an assistant to such famous filmmakers as Claude Chabrol.
Daniel Edinger was the son of Jacques Edinger (1910-1973), creator of the French Desk, who worked for Reuters from 1961 until his death. He was the brother of Bernard Edinger, Reuters correspondent from 1969-2001, and of Charles Edinger, a 1979 Reuters graduate trainee who left the company in 1983 and is today a senior producer at the SNTV sports news television agency.
He is survived by his wife Françoise Prébois-Edinger, a film director.
---
PHOTO: L-R Bernard, Charles and Daniel Edinger in London in April 1968 ■