News
Obituary: Nicholas Moore
Monday 3 May 2021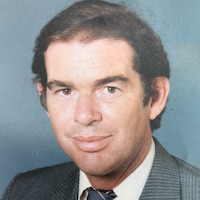 Frontline correspondent and editor, Nick Moore (photo) had a vivid, wide-ranging career at Reuters that took him from the terrors of Idi Amin's Uganda, watching the Red Army encamped up the Khyber Pass to the smoke-filled rooms and conspiracies of OPEC oil chiefs.
From Cambridge University to retirement, Moore, with one brief break, spent his entire career "working for The Baron". And he packed a lot into each of those 36 years, David Rogers writes.
Moore died at his Surrey home last week aged 79 after long battles against respiratory illnesses and Motor Neurone disease. But still alert enough to monitor his old hunting grounds and with one eye on the cricket in India.
He entered Reuters via the 1964 graduate training scheme.
Moore was first posted to New Delhi then quickly moved to Pakistan, gripped by government and religious strife and a headline-hitting story in its day. A serious bout of pneumonia - he always thanked "a KGB contact" for rushing him to hospital - brought the posting to an end.
Having spent part of his boyhood in Kenya, where his father was stationed, and with the Swahili language, Moore had a succession of one-man African bureaux - Tanzania and Zambia among them - before becoming chief correspondent, East Africa in Nairobi in 1972.
Arriving in Uganda to cover President Amin's expulsion of the country's 40,000 Asian minority, he and other foreign journalists were quickly rounded up by the Army.
Held in a blood-caked cell with another British journalist in the so-called execution block of Kampala's Makindye Prison, Moore later reported:
''I heard a curious noise outside, as of an egg being broken. They had just dragged away a man who had lain on the floor… other inmates later told me how the executioners used a sledgehammer."
Moore and his colleagues were eventually freed and deported. He returned to Kampala years later "haunted by the ghosts of those tens of thousands who did not escape" (Amin's terror), he reported.
At the end of his Nairobi assignment, Moore resigned to try working as a freelance. "A crackpot idea", he later said, and rejoined Reuters within a year.
He moved back to London and then on to Cairo where he became a roving correspondent in the Middle East and later assignments included the Russian invasion of Afghanistan.
In 1980 came a major change in direction when he was made energy editor - a move later heralded as a master-stroke.
Richard Mably, a close colleague at the time and now Refinitiv head of news performance, says "Nick was an architect of a new type of wire reporting that put Reuters news at the centre of the global economy and made it a fortune - news for financial markets."
"…At OPEC, Nick was in his element. Across 15 years running the Reuters team, he was the single most influential reporter in the affairs of the quarrelsome cartel that propped up global oil prices."
OPEC meetings, famously challenging and famously competitive, pitched news agencies into heated battle. As a lover of military history, he revelled in it.
At one contentious OPEC meeting in Bali "in the days before walkie-talkies or mobile phones, Nick raced a competitor on bicycles to report a news flash from Saudi oil minister Zaki Yamani," Mably recalls.
In 1982, Moore's reporting team won the Prix Bernard J. Cabanes for its coverage of OPEC.
Former editor-in-chief Geert Linnebank believes ''Oil was the story that called on all Nick's experiences and talents - an ability to understand complex multi-dimensional stories mixing politics, business, finance and economics and then explain clearly, precisely without bias.
"We shared the same vision that Reuters' principal mission was - to use some of his cherished military imagery - to 'put boots on the ground', wherever we could," Linnebank said.
"For me, Nick was a mentor and inspiration."
Moore's final role at Reuters was as training editor.
His wife Judith died in 2008. He is survived by his son Christopher and daughter Celia. ■