News
Refinitiv head David Craig to depart LSE
Wednesday 26 May 2021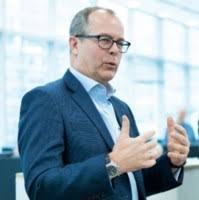 David Craig (photo), one of the architects behind the $27 billion sale of Refinitiv to the London Stock Exchange, is to leave the company less than a year into his new role.
He will step down as head of the LSE's data & analytics division, which includes the Refinitiv purchase, in July and will leave the group by the end of the year.
Craig, 51, will be replaced by his deputy, Andrea Remyn Stone, a former Bloomberg executive who he hired in January 2020, the LSE said on Wednesday.
He first joined Reuters as chief strategy officer in 2007 and led the integration planning for the Thomson Reuters merger. As head of Refinitiv, he had been one of the driving forces behind the LSE deal, which transformed the exchange into a data provider when it completed in January. The group's revenues tripled and the number of employees rose five-fold to more than 25,000. But the LSE has been trying to restore investor confidence since March after disclosing it would incur almost £1 billion of expenses this year to integrate Refinitiv with its own index business.
That unexpected announcement triggered the biggest one-day fall in LSE shares in 20 years. The Financial Times said it also led to a steady divergence of views between Craig and David Schwimmer, group chief executive, over integrating the businesses, according to two people with knowledge of the situation. The two companies are culturally different, one person said, but the relationship between the two men has remained friendly.
The LSE has also been drawn into a battle with Reuters over the agency's agreement to distribute news content, after Reuters announced plans to set up a paywall for its content. Refinitiv makes annual payments of $325 million to Reuters, about half of the agency's turnover.
The LSE said Craig's departure was unconnected. "These conversations are ongoing," it added.
Craig has overseen the Refinitiv business for almost a decade in which it has lost ground to rivals such as Bloomberg and FactSet in the battle to supply terminals and data to financial markets. He attributed the decline in part to under-investment from its previous parent, Thomson Reuters, and the frustration drove him to engineer a buyout with a private equity consortium led by Blackstone. The $17 billion deal was at the time one of biggest leveraged buyouts since the financial crisis.
He said it had been "a privilege to lead the change and innovation in the Refinitiv business for the last nine-and-a-half years". ■
SOURCE

Financial Times