News
Thomson Reuters to review armed forces pledge
Wednesday 10 November 2021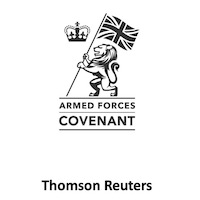 Thomson Reuters is to review its signing of a covenant pledging to support members of the British armed forces after a storm of outrage from present and former Reuters journalists.
An announcement from HR chief Mark Sandham and senior legal officer Lucinda Case, who signed the Armed Forces Covenant on behalf of Thomson Reuters on 31 August, fell short of the immediate cancellation demanded by Reuters journalists, however.
Tuesday's announcement said the company understood the concerns raised and would review the initiative. It said the intention of signing the covenant was to show that Thomson Reuters was an inclusive employer.
"In no way did we intend for this initiative to be perceived as an endorsement by Thomson Reuters of the policies or actions of the U.K. armed forces," Sandham and Case said in a message to staff.
They added that they were not dismissing the concerns raised. "Of particular importance is any potential risk to our reporters and adherence to the Trust Principles."
Three senior editors - editor-in-chief Alessandra Galloni, global editor, ethics and standards Alix Freedman and global managing editor, news publishing Simon Robinson - would be included in a group which would look at the agreement "over the coming days". It would consider the company's global diversity and inclusion strategy, the aims of its affected business resource groups, the potential impact on Reuters journalists and consistency with the Trust Principles.
The review appears to have been ordered only after a wave of protests on The Baron and in social media as well as by journalists working at Reuters, the news division of Thomson Reuters.
Critics said the Covenant with one stroke destroyed Reuters hard-earned reputation for impartiality and independence from any government, established over many decades by generations of Reuters journalists. They said the Covenant could endanger correspondents working in hostile countries, especially where British and other Western forces were viewed with suspicion or even hatred.
The Covenant pledges Thomson Reuters to "support the Armed Forces Community. We recognise the value Serving Personnel, both Regular and Reservists, Veterans and military families contribute to our business and our country."
It is unclear whether editorial executives or the Trustees were consulted before the Covenant was signed or before the announcement to staff on 18 October. So far, the company has not replied to questions submitted by The Baron on Monday.
Some of those attacking the covenant, including former editor-in-chief Michael Reupke, called for Trustees of Thomson Reuters Founders Share Company to resign for failing to block an initiative which flouted the Trust Principles.
Former journalists expressed astonishment that Thomson Reuters executives had so little understanding of what Reuters represented and called for resignations. Some were so shocked they asked whether announcement of the Covenant was a hoax. ■
SOURCE

Thomson Reuters