News
Obituary: John Chadwick
Saturday 7 May 2022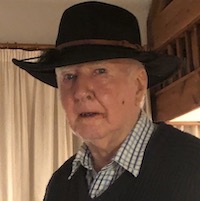 John Chadwick (photo), who has died aged 92, was the first Reuters correspondent to lead both the Cairo and Tel Aviv bureaux.
During seven years in the Middle East he covered the 1967 Six Day War when Israelis destroyed Arab air forces on the ground and seized Sinai, Jerusalem and the West Bank as well as the Golan Heights of Syria. Later, he was assigned to Egypt where he reported on its Arab nationalist leader Gamal Abdel Nasser.
"For what was supposed to be a rest after Cairo, I was sent to Munich to organize the Reuters logistics for the 1972 Olympics. But the Middle East haunted me," he wrote in the 2001 book Frontlines: Snapshots of History.
"Palestinian terrorists broke into the athletes' village and took Israeli hostages, and it ended in a bloodbath on the tarmac of Fürsten Feldbrück airfield. Instead of going for a James Bond shootout with too few marksmen, I always thought the Germans might have played for time by letting the Palestinians fly with their captives to Egypt, where I believe the authorities could have defused the situation. It would have been a chance worth taking, anyway."
Brought up in northern England, Chadwick joined Reuters in 1957 after working for provincial newspapers Bury Times and Bolton Evening News.
His first big foreign assignment during 34 years as a Reuters journalist was to cover the so-called Cod War between Britain and Iceland. Other foreign assignments included the United Nations in New York, Bonn, Stockholm, Copenhagen, Geneva, Rome, Karachi and Istanbul.
He became a World Desk editor in the late 1980s and held that post until retirement in 1991, after which he trained east European journalists under the auspices of the Reuter Foundation.
Post Reuters, he wrote reviews for Jazz Journal and articles on travel, jazz, film and literature for London Magazine, The Guardian, The Australian and Washington Post. He played jazz piano, his musical taste ranging from Mozart to Jelly Roll Morton.
Chadwick died on 28 April.
The funeral will be held on 6 June in Saint Egwin's Catholic Church in Evesham at 11:30 am followed by commitment in Vale Crematorium in Fladbury. ■