News
Obituary: Ibrahim Noori
Thursday 15 September 2022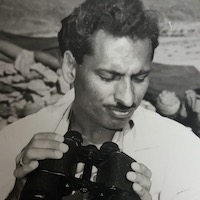 Ibrahim Noori (photo), a frontline Reuters correspondent in the Middle East for many years, died in London today at the age of 92.
During the British military withdrawal from Aden in the 1960s, he was wounded in a bomb explosion at the airport and carried shrapnel in his legs for the rest of his life. He covered conflicts throughout the region, including Arab-Israeli wars, revolutions and the Yemen civil war.
Ibrahim was born of Persian heritage in Karachi, then part of India, and spoke Farsi, Arabic, Urdu, English and French. He worked with the Arab News Agency and later joined Reuters, based in Beirut.
After Lebanon, he had Reuters postings to Singapore, Iran, Bahrain, Jordan and Morocco. He and his family settled in the UK in 1989 and acquired British citizenship. He retired from Reuters in 1990 but continued working for the Reuters Foundation.
He subsequently graduated from Birkbeck, University of London, with a Master's Degree in International Relations and went on to lecture on current affairs and politics.
Ibrahim is survived by his wife Tehzeeb, his daughter Muna and son Assad, and five grandchildren. ■