News
Foundation rescinds Kurt Schork Award to Palestinian journalist
Tuesday 18 October 2022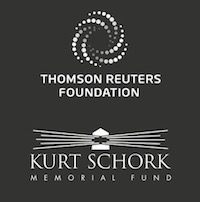 The Thomson Reuters Foundation and the Kurt Schork Memorial Fund on Tuesday withdrew a $5,000 journalism award conferred on a Palestinian freelance reporter.
The decision followed the discovery of a social media post on Shatha Hammad's Facebook feed that appeared to quote Adolf Hitler. In doing so, the 2014 comment suggested an endorsement of his ideology.
"The Thomson Reuters Foundation and the Kurt Schork Memorial Fund stand opposed to hate speech of any description," they said in a statement. "We have therefore taken this unusual step in order to protect the integrity of the Kurt Schork Awards, established to recognise and celebrate the courageous and brilliant reporting of conflict, corruption and injustice from journalists around the world, who risk their lives daily to speak truth to power.
"We are aware of a second Facebook post using extreme anti-Semitic language that purports to be drafted by Hammad, also dated 2014. However, Hammad strongly denies that this post is hers.
"Both the Thomson Reuters Foundation and the Kurt Schork Memorial Fund remain absolutely committed to protecting and promoting independent and accurate journalism, particularly of those whose voices are often marginalised or unheard. We also condemn attempts to control or silence these voices. As such, we will continue our efforts to strengthen free, independent and pluralistic media around the world, so critical to upholding free, fair and informed societies."
Hammad's 2014 Facebook comment said "Me and Hitler are friends. We have influence over each other and share the same ideology, such as the extermination of the Jews." In a post the same year, Hammad described those who killed five Israelis in a terrorist attack as "martyrs".
Her comments glorifying Hitler and terrorism were initially exposed by media watchdog HonestReporting, which said that there were dozens of such comments.
Hammad is based in the West Bank and works as a freelance correspondent for Middle East Eye, a London-based online news website covering events in the Middle East and North Africa.
Now in their 21st year, the Awards are named in honour of American freelance journalist Kurt Schork who was killed in Sierra Leone in 2000 while on assignment for Reuters. ■
SOURCE