People
Nelson Graves hands over News Decoder
Tuesday 3 January 2023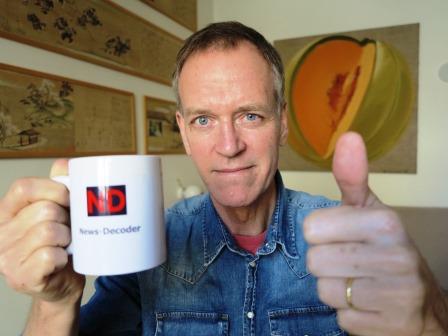 Nelson Graves (photo) has moved on from day-to-day management of the educational non-profit news organisation for young people that he founded on a shoe-string in Paris seven years ago. He will remain president of its board of trustees.
Previously a Reuters correspondent in Washington, Paris, New Delhi, Kuala Lumpur, Milan and Tokyo, Graves started News Decoder in 2015 with slim financial returns that he says belie both its social worth and the joy of working with youth.
News Decoder works with schools around the world to teach journalistic and media literacy skills that extend students' global horizons. Its alumni body numbers more than 15,000 students on five continents.
News is at the core of News Decoder's work - how producing news can help a young person better understand the complexities of the world and become a better global citizen. It has been supported by many ex-Reuters journalists who shared his enthusiasm for foreign adventure and an appetite for news.
Graves' advice to a young person contemplating an uncertain future: "Be true to your values. Trust your instinct. Don't be afraid of taking a calculated risk that might seem crazy at first. Your career will fall into place. And if you're as lucky as I have been, it will come full circle, back to a unique and thrilling starting point."
Other lessons drawn from News Decoder:
Hard work can provide joys that money cannot buy. It can be next to impossible for a young person to see beyond the glitz and glitter that our media - entertainment, advertising, news, social media platforms - peddle in the interest of making a buck. Much of it is fake, but the allure is powerful.
Despite all the gloom and doom around us, many individuals are keen to support a non-profit with an abstract, even woolly educational mission that aims to enrich its community intellectually, not financially.
The news industry may have a business-model problem, but there is still ample interest in the news as a tool that can foster democracy.
The new leader of News Decoder is managing director Maria Krasinski. ■