People
Online service for young adults tops funding goal
Monday 16 March 2015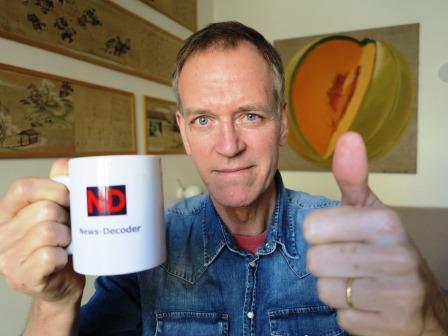 A venture backed by former Reuters correspondents has raised more than $40,000 towards an online service that will help young people around the world make sense of the news.
The service, called News-Decoder, is backed by 31 former Reuters journalists and other experts who will explain the background and significance of world news for millennials - 18-to-30-year-olds who are inundated with headlines but often lack the historical perspective to understand the events.
Half way through a five-and-a-half-week crowd-funding campaign, News-Decoder had surpassed its target, raising more than $44,000 from donors in over two dozen countries.
The funds will go towards a pilot programme to build a "minimum viable product" to test the not-for-profit model.
Several dozen of the donors are either former or present employees of Thomson Reuters, including ex-CEO Tom Glocer.
"World events are complex and we are increasingly crunched for time and bombarded with various media," donor Andrew Mention of Colorado wrote on News-Decoder's campaign page. "A thoughtful news source with a global view will be an invaluable tool for young minds looking for context along with the facts about the world around us."
Anusheh Naveed Ashraf of Pakistan, another donor, wrote: "This is going to add immense value for countless of young people like myself."
The service aims to leverage the correspondents' experience, broad perspective, writing skills and impartiality to clarify complex events for young adults around the world. The correspondents will contribute articles and moderate discussions, debates and round tables on News-Decoder's digital platform.
In addition to a website with original articles, photos and video, News-Decoder will organise virtual debates and discussions, allowing young people around the world to share perspectives on big news events.
News-Decoder founder Nelson Graves (photo) said he hopes to launch the pilot programme in the third quarter of this year. Based in Paris, Graves plans to hire at least two young, paid interns to help shape the service.
News-Decoder's crowd-funding campaign will run until 2 April. Graves is hoping that at least 350 donors from 35 or more countries will contribute to the appeal to strengthen News-Decoder's global footprint. Donations of any size are welcome.
The following former Reuters journalists are involved in the project: Charles Aldinger, Tiziana Barghini, Debbie Charles, Malcolm Davidson, Bernd Debusmann, Pascal Fletcher, Gene Gibbons, Nelson Graves, Janet Guttsman, Richard Hubbard, Patrick Lannin, Jeremy Lovell, Alistair Lyon, Jonathan Lyons, Jane Macartney, Barry May, Colin McIntyre, John Mehaffey, Elaine Monaghan, Barry Moody, Harvey Morris, Julian Nundy, Andrew Quinn, John Rogers, Feizal Samath, David Schlesinger, Enrique Shore, Jonathan Thatcher, Alan Wheatley, Jim Wolf, Betty Wong. ■