The Baron's Briefings
Bernd Debusmann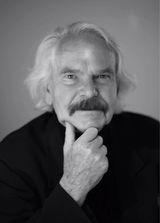 After an exceptional career as a frontline Reuters correspondent for half a century, Bernd Debusmann (photo) has a dark view of world affairs.
Asked if he could see any reasons for optimism amid all the gloom and doom of his reporting life, Bernd thought briefly and concluded, "I don't see a very happy future for any of us, but one hopes. I think the possibility of a major war between the United States and China is there. And then there's the Middle East where the conflict will probably widen. No, I don't see a happy future."
Bernd was speaking to an online audience of Reuters colleagues in a series of Baron's Briefing webinars organised jointly by the Reuter Society and The Baron website. The title he chose for his talk was: From the dysfunctional third world to the dysfunctional first world: a personal story.
The highlights of Bernd's career, condensed into an hour of anecdotes, ranged from personal drama to historic coincidence, from wars to corruption and dirty politics. His stories were often grim, but enlivened by flashes of hilarity.
He was shot twice in the service of Baron Reuter. Both times in Beirut.
The first was an accident of conflict, crossing the 'green line' under fire in the divided Lebanese capital.

The second was a deliberate assassination attempt, what he calls "censorship by bullet".
He bears the scars of both to this day: he has a bullet in his back and one foot smaller than the other.
He also lost a finger practising his favourite sport, skydiving. He made the audience laugh with an alarming account of how a group formation jump went disastrously wrong for him in Latin America, as he caught his hand in a shroud on his small Cessna plane. His comrades rushed him to hospital with his severed finger frozen in ice - only for the surgeon to pronounce it "burned" by the ice and throw it in the waste bin.
Asked if he had fainted, Bernd famously replied: "I am not the fainting type."
During 48 years in the field, Bernd reported from more than 100 countries in Europe, Africa, the Middle East and the Americas.
He joined Reuters in 1964 in his native Germany, in the then West German capital of Bonn. He paid tribute to two colleagues of that time, bureau chief David Sells, who "took a chance on an applicant with no news experience and less than perfect English" and Ian Macdowall, number two in the bureau, who became his career mentor. "Ian showed infinite patience in teaching me how to make the lead of a story sing."
After training in Bonn, he was posted to Vienna, the listening post for Communist Eastern Europe.
"The timing was perfect." Bernd was in place for the 1968 'Prague Spring' Soviet invasion of Czechoslovakia. He remembers being woken up in the hotel by cries of "They've come, they've come!" as columns of Russian tanks rolled into the city.
In another case of critical timing, Bernd was posted to Addis Ababa a few weeks before the overthrow of Emperor Haile Selassie. The left-wing officers who seized power in Ethiopia soon took an intense dislike to Bernd's reporting. He was arrested and ordered to reveal his sources. The interrogating officer, finger on the trigger of his Kalashnikov, warned him: "Mr Debusmann, accidents happen in our prisons." Fortunately he was expelled, on grounds of malicious reporting.
Many of Bernd's memories are related to conflicts, but not all. Corruption and crime, dodgy politics and crooked police, all featured in stories from various dysfunctional third world countries, such as Egypt and Liberia.
Moving on to dysfunction In the United States, Bernd said he had seen, in the past three decades, a steady decline in standards of governance and an explosion of crime statistics, from murders and frequent mass shootings to armed robberies. This even applied in Washington DC, where he lives in active retirement, still commenting on world affairs.
"Things have definitely been getting worse," he declared. "I feel insecure in Washington. It's even worse than it looks. Even in the wealthier districts of the capital. There has been a wave of carjackings, 866 by mid-November in a city of just 730,000 people. And that all started before Trump."
A close follower of American politics, Bernd is proud of correctly calling Donald Trump's presidential victory in 2016 - and winning a $2,000 private bet, against all the media pundits and professional pollsters.
Answering questions, he said he would not bet on the next presidential election. "Trump could win. I hope not but I think so."
He deplored the fact that Donald Trump had become the undisputed leader of the Republican Party, which he described as "ideologically extreme".
Asked for his views on the Gaza fighting, Bernd said he believed the chances for a two-state solution to the Arab-Israeli conflict were less now than before the Hamas attack of 7 October.
Israel's violent retaliation was out of proportion, he said. "What they are doing is collective punishment." He was not convinced by Israeli assertions, not so far backed by pictures or video evidence, that Hamas had command centres under the Palestinian hospitals in Gaza.
He believed the fighting would die down but that Hamas would continue to wage guerrilla warfare. He predicted that Israeli Prime Minister Benjamin Netanyahu would not survive. He would be out of office in three months.
Finally, Bernd, why did you stay so long with Reuters?
"I loved the place. I got most of the assignments I wanted. And I felt, particularly in the 1960s and 70s, that the nickname we gave Reuters, the 'family firm', was an apt description of the atmosphere." ■