Archives
Edgar Wallace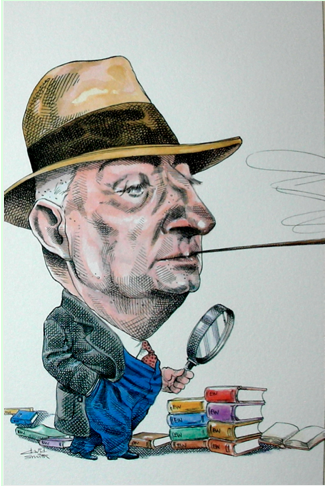 The lure of Fleet Street and dreams of fame drew Edgar Wallace to Reuters in Cape Town in the southern winter of 1899. A bronze plaque now perpetuates his memory at Fleet Street's eastern end, a few paces from Reuters Head Office.
The plaque describes him as a reporter, born London 1875, died Hollywood 1932; but Wallace was also war correspondent, editor, poet, playwright, film script writer and the source of an amazing abundance of crime thrillers that stamped his name indelibly on the popular mind.
At the height of his career he kept a string of racehorses, ran two Rolls-Royce cars, employed 20 servants and hired the royal suite on the liner Berengaria to cross the Atlantic.
This was a far cry from the Edgar Wallace of 1899, a young ex-soldier who had bought his discharge and whose greatest success in journalism was a poem printed in the Cape Times on the day Rudyard Kipling arrived. It began: -
"O, good mornin', Mister Kiplin'! You are welcome to our shores:
"To the land of millionaires and potted meat:"
On the strength of this, rather than on his past career, Wallace asked Reuters Chief Correspondent in South Africa, H.A. Gwynne, to take him on.
Wallace was the foster-child of a Billingsgate fish-porter and his wife, had left school at 12 and had worked as a newspaper seller, milk roundsman, cook on a trawler and plasterer's labourer. He eventually joined the Army, which sent him to South Africa. Now he was 23.
Gwynne must have sensed the journalistic fire within, because at the start of the Boer War between the British rulers in South Africa and Dutch farmers he gave Wallace his chance as second correspondent with Lord Methuen's forces at the Orange River.
He took great pride in his mailed colour stories, which he much preferred to word-pinching cables
Once in the field, with £100 for expenses, Wallace bought a horse, but soon abandoned it for a more tractable bicycle. A senior correspondent covered the best stories and eventually Wallace was sent on a tedious journey with Lord Carrington's troops tackling the Transvaal from the North.
To Wallace's despair he just missed the relief of Mafeking, the town where a small garrison of British troops was besieged for seven months.
It was one of the news high spots of the war and a scoop for Reuters correspondent in Pretoria. Wallace could only provide belated colour.
He took great pride in his mailed colour stories, which he much preferred to word-pinching cables. A muddle-headed typist in Cape Town, whose job it was to send them to Reuters, posted some to the Daily News and Daily Mail in London.
This was apparently truly a mistake, but it led Wallace, after leave in London, to change allegiance to the Daily Mail. He was soon a success in popular journalism and scored a triumph by defeating the secrecy and censorship of the Boer War peace talks at Vereeniging.
His secret was a double system of codes involving innocuous-seeming cables about Stock Exchange dealings and different-coloured handkerchiefs used by a sentry at the peace camp to blow his nose. This nose-blowing routine was viewed at set times from a passing train. Had he still worked for Reuters he would have had a tricky problem naming the source of his news!
With peace restored, Wallace became the first editor of the Rand Daily Mail. Reuters still has the contract signed in his flowing handwriting for the paper to subscribe to the Reuter news service. Soon a blazing row with his proprietor ended his editorship and he returned to London where he got work as a reporter.
His first novel, The Four Just Men, was a financial disaster because of a costly prize contest he ran to advertise it. His reporting job with the Daily Mail, which had re-employed him, ended with a libel claim that cost £5,000. Then he made a comeback with Sanders of the River, a serial for the Weekly Tale Teller.
Writing feverishly to support a flamboyant life-style, Wallace produced 28 novels by the early 1920s, then quickened the pace to end with a lifetime total of some 150 works.
All this time he made innumerable contributions to newspapers and periodicals, for some of which he was at times editor, racing editor, dramatic critic or reporter. He wrote and produced many plays at Wyndhams Theatre.
Some people thought Wallace could have written great literature with a Dickensian touch but, incurably spendthrift, he chose quantity rather than quality as the surest way to earn the vast sums he needed to keep creditors at bay.
He dictated novels to a secretary or into a dictaphone with almost incredible speed, fortified by half-hourly cups of tea. Once he dictated an 80,000-word book between Friday night and Monday morning.
Late in life he took an interest in films. When he died in Hollywood, of pneumonia and diabetes, he had been collaborating on the scenario of King Kong, a film that made cinema history.
---
First published in Reuters World No. 53 June 1988 ■