Archives
John Buchan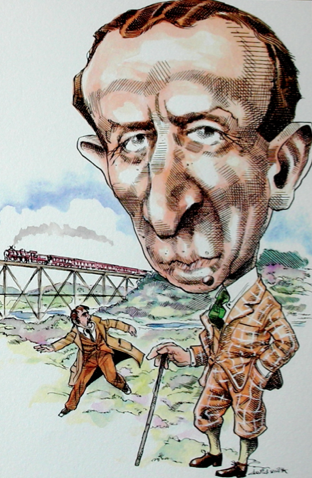 I snapped the switch, but there was nobody there. Then I saw something in the far corner which made me drop my cigar and fall into a cold sweat.
My guest was lying sprawled on his back. There was a long knife through his heart which skewered him to the floor.
Powerful stuff by a noted author of adventure thrillers who, if fate had taken a different twist, would have become head of Reuters.
The passage comes from John Buchan's The Thirty-Nine Steps, top reading for adventure lovers 70 years ago. It became a Hitchcock film and the book is still selling today as a paperback.
Buchan, a Scot, was a brilliant and remarkable man who became Governor-General of Canada as Lord Tweedsmuir, passing by the stages of author, lawyer, soldier, civil servant, publisher, journalist, Member of Parliament and Executive Deputy Chairman of Reuters.
In 1923 the principal owner of Reuters, Sir Roderick Jones, chose John Buchan to succeed him as Chairman and Managing Director if he should die.
He wrote to his lawyer, Archie Balfour:
My Dear Archie,
Under my present will, now being replaced by a new will, you are my principal Executor and Trustee.
I should like you, as such, to see that John Buchan takes my place as Chairman and Managing Director in event of anything happening to me. John I know will do this, and I am anxious that you should be free from any disputation amongst rival candidates for the post...
I charge you to appoint John Buchan.
Yours ever,
Roderick Jones
As nothing untoward happened to Sir Roderick before he gave up the right to decide his successor by selling a majority interest in Reuters in 1926, the contingency plan for Buchan to take over lapsed.
Buchan's close connection with Reuters lasted for nearly 20 years, beginning before Sir Roderick and the then chairman Mark Napier bought the Company in 1916 following the death of Herbert de Reuter, the son of the founder.
Buchan was an old friend of Sir Roderick and became a director, serving until he was appointed Governor-General of Canada in 1935.
Buchan's close connection with Reuters lasted for nearly 20 years
For three years he was Executive Deputy Chairman of Reuters and headed an editorial committee which took over when Sir Roderick went on a 10-month world tour. He gave up his executive post when elected to Parliament in 1927 as Conservative Member for the Scottish Universities, but remained a director.
Buchan, born in Perth, Scotland, in 1875, son of a Free Church minister, lived to be 64. After a distinguished university career at Glasgow and Oxford, he became a barrister (lawyer who pleads at court), served in South Africa in a group of rising young men on the staff of High Commissioner Lord Milner after the South African war, and became a partner in an Edinburgh publishing firm, Thomas Nelson and Sons.
Early in World War I he was a war correspondent for The Times in France then, as a colonel, he headed news services at General Headquarters and in 1917, back in London, was made Director of Information in the Department of Information. The Department later became a Ministry of Information in which Buchan was Director of Intelligence.
From his student days until he accepted high office in 1935 books flowed from Buchan's pen in profusion. He produced nearly 100 literary works.
The general public remembers him mainly for his adventure novels, written with dashing enthusiasm for manly virtues and love of the open air. He said he wrote these because he had insomnia.
In contrast, he wrote biographies of historical figures, a book on taxation law, poetry and military histories including a history of World War I.
Early in his career he worked for The Spectator, and for three years in the 1930s he was 'Atticus' in The Sunday Times.
Buchan became a Companion of Honour in 1932 and a Privy Councillor in 1937. Universities showered him with academic honours. Contemporaries said he was a man with a warm nature, a gentle voice and inspired by restless energy.
Naturally Reuters took a great interest in his appointment as Governor-General of Canada and would have liked to have been first with the news. But the era of instant communication had not yet arrived. The cable that arrived from Ottawa at 3.37pm on March 27, 1935, read frustratingly BUCHANS APPOINTMENT CONCERNED.
Fourteen minutes were lost before this was corrected to BUCHANS APPOINTMENT CONFIRMED and in the meantime, at 3.49pm the British national news agency, the Press Association, had broken the news from the London end. Ottawa blamed the cable company.
---
First published in Reuters World No. 51 March 1988 ■