Library
Jon Henderson hits a winner at Wimbledon
JON HENDERSON - The Last Champion: The Life of Fred Perry - Yellow Jersey Press - 2009
---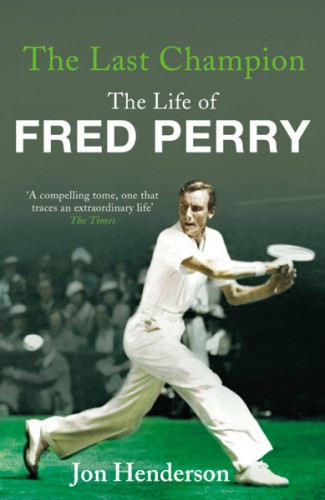 Jon Henderson's biography of Britain's three-time Wimbledon champion of the 1930s, Fred Perry, was published in May 2009, in good time for this year's tennis extravaganza.
Book writers are not in the same league as Andy Murray and the Williams sisters when it comes to making money from the game but Jon, a former Reuters sports writer and now tennis correspondent of The Observer, must be doing quite well from this tome. It's a hit with the tennis crowd at Wimbledon and probably winning a wider audience, too - booksellers report healthy demand.
Chosen as Book of the Week on BBC Radio 4, extracts from the biography have been read daily for listeners throughout the country giving details of Perry's Wimbledon triumphs, including the story that before the 1935 final an indiscreet masseur tipped off Perry's camp that his opponent Gottfried Von Cramm had pulled a groin muscle and couldn't reach far to his right, which Perry turned to his advantage for a straight sets victory.
The BBC readings included excerpts from recordings of the 1934-35-36 radio broadcasts when stiff upper lip sporting coverage was the norm, without the speed and excitement conveyed to listeners around the world in later decades by the brilliant Max Robertson.
"The Last Champion - The Life of Fred Perry" is selling for £13.29 or 30 per cent off at Amazon, slightly more elsewhere on the web and at £15.99 at Borders, £3 off the list price.
It provides some comprehensive and compelling detail in its 292 pages of text, a tribute to Jon's ability to dig out little-known facts, read a mass of newspapers from the period and get interviews with those who knew Perry and worked with him in lawn tennis and before that in table tennis. He was world champion in both sports.
You can read a chapter anywhere in this book and find it interesting. There is Perry's early life in the north before he moved to the London area with his father, who was a leader of the cooperative movement and became a member of parliament. Of course you'll want to read the chapter on his four wives, one a Hollywood film actress, as well as his grass-court rivalries with Jack Crawford, Ellsworth Vines, Donald Budge and Von Cramm.
Jon had two autobiographies by Perry and input from Perry's old chums including his former coach, broadcasting colleague and lifetime friend, the late Dan Maskell, to help him. But it's doubtful that any previous book on the man was as illuminating as this one from a sporting era that is obviously now fading and was much different from today.
Here is a synopsis borrowed from a website seeking to attract buyers:
For fifty weeks a year, Fred Perry is more associated with the laurel logo and leisurewear that bears his name than his tennis exploits. Then, as Wimbledon returns, and the British hunt for his successor, he stands again as a sporting great. For Perry, Wimbledon champion three times in the 1930s, is the finest player Britain has produced. One of the world's first truly international sportsmen, he won the game's four major titles on three continents, an unprecedented feat, and led Britain's annexation of the Davis Cup, the world team championship. Perry came from an unprivileged background and found himself supremely gifted in a sport that discouraged the advancement of those without social standing or private means. The ambition and drive that would take him on his unlikely journey to the top were glimpsed first in his father, Sam, who served two stints as a Labour MP. Perry, who disliked politics, turned first to table tennis, winning the world title without formal lessons. By then he had stumbled on tennis, which soon monopolised his life. Never comfortable with the establishment - a feeling that was reciprocated - Perry turned professional in 1937. He compounded this perceived sin by taking out U.S. citizenship when war broke out. He embraced his new country wholeheartedly. From Hollywood to Florida, he led a vigorous private life, the handsome escort of beautiful women and husband of four wives. "The Last Champion" is the first biography of Fred Perry. Through extensive research and interviews, Jon Henderson, tennis correspondent of the "Observer", tells the remarkable story of a remarkable man. ■